Made for Chartering: the Bali Catamaran from Catana
The trend in sailing holidays is increasingly towards multi-hull use, with their spacious accommodation and ease of handling making catamarans the popular choice. With the entry of the Bali into the market, choosing a cat that's right for your next sailing holiday with family or friends just got easier, with all the best features incorporated into this contemporary design.
It is fair to say that catamarans are currently going through a development period. Traditional rules of design are giving way to improvements driven by the expectations of today's customer. generally, cruising boat design innovation tends towards incremental improvements rather than big steps forward, with designers often constrained by tradition and existing parameters. The Catana designers are pushing this practice to its limits, their latest boats setting a new standard for lightweight construction and an uncompromised commitment to performance.
The Bali is a fresh design, its creators given a clean slate to integrate all the modern features increasingly demanded by charter clients.
In the Bali, Catana has integrated their knowledge of what makes a good performer under sail with their understanding of liveaboard spaces and functionality. It is clear that through their charter partners they have identified all the features clients are asking for, and ticked each one off as the boat has taken shape on the design board. The latest trends in charter boat excellence are all recognised in the result. The Bali is a catamaran with living spaces rightly described as vast, and a rig configured with the mast aft to reduce pitching. A smaller main and self-tacking headsails make for ease of sail handling.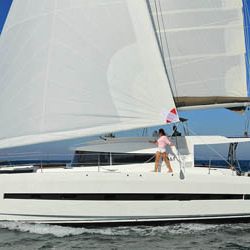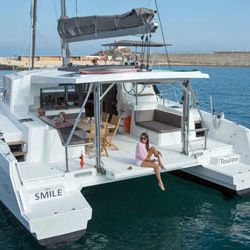 To achieve its aim to deliver 'open space sailing', Catana has designed the Bali with a cockpit that seamlessly extends off the saloon, rather than off the deck. This allows for continuous topside/below deck flow for entertaining and relaxing, and maximises efficiency across all aspects of crew activity. Forward the whole platform is utilised, with the boat's buoyancy enabling it to dispense with the usual trampoline, for a solid foredeck lounging space.
By setting the mast further aft than conventional, Catana has placed handling the Bali under sail firmly around working the foresail. For the general holiday charterer, furling headsails are easier to operate than mainsails, so it is forward that rig operation is maximised for performance through the water. That's without compromising mainsail efficiency, which is improved through a vertical leech, square at the top. The helm is elevated at the aft cabin bulkhead on some boats, with flybridge models also in production.
The Bali is proving a popular catamaran for charter, with more craft steadily appearing in destinations around the world. If looking for a suitable boat to take your next bareboat or crewed catamaran charter holiday, it's hard to go past the Bali range.