Two new charter options to end a busy 2022
In 2022 charter sailing worldwide returned even better than before; we have new operators waiting to serve and whole fleets of new boats with new innovations waiting to be enjoyed in all your favorite destinations. Like for instance the biggest sailing monohull in bareboat charter ever, and at the other end of the LOA range a lovely new catamaran that has filled a gap for family and small group charters. 
Are you ready to sail a 20-metre yacht bareboat? 
Over the last decade we've got used to boats in charter getting bigger, better to sail and more luxurious. Chartering the bigger boats with skipper has become increasingly popular, less so bareboat options at the top end. That's all now changed - a new ceiling has been broken in the self-skippered charter sailing world. 
As of last week we would have said that sailing yachts available to self skipper top out around 56 feet long. But now a big leap. Introducing the 2023 Jeanneau 65 Uranos, which is available bareboat  out of Lavrion, gateway to the Cyclades islands, Greece.
The brand-new Jeanneau 65 represents a significant makeover in layout and styling of the already successful 64.  Uranos has four double guest cabins with ensuite, a sensible layout that allows for all spaces to be large and luxurious. There are two further cabins with double bunks - one in the bow, the other in a lower level off the main saloon.
 
We're excited about this bareboat option for those of us who enjoy the pleasure of truly sailing a yacht, even on vacation. And where better than the glorious Greek Islands to experience the performance of a 65 footer, sliding along at boat speeds in excess of 10 knots.
Understandably a bareboat charter of this size requires evidence of a certain sailing experience. Two sailing resumés are needed - for both skipper and co-skipper - both showing some larger-boat sailing history. And of course as this is Europe a skipper's ICC is required.
For this size and level of luxury, Uranos bareboat is priced between 12,000€ and 21,900€ per week, now available for chartering in 2023. For peace of mind you may of course prefer to hire a skipper, or allow us to package up your Uranos charter as fully crewed. The choice is yours.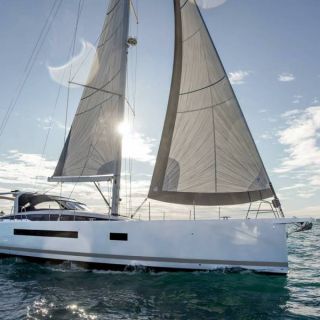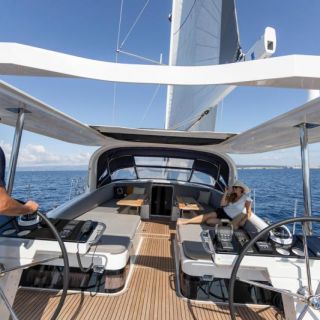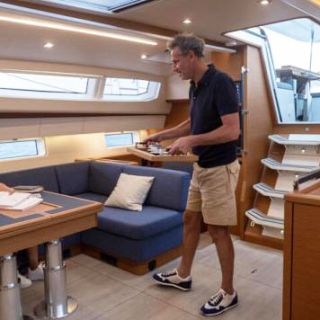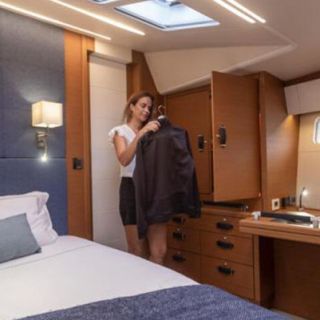 How about a new catamaran at entry level?
At the other end of the charter boat LOA spectrum is the tried and true Lagoon 380. While still available due to its sheer popularity over the years, this is a 20-year-old design and it shows. Fountaine Pajot did not replace their Mahe 36 when  they stopped building it, and so for some time there has been a gap in the market for the smaller cat of modern design. 
Enter the Beneteau Group and their Excess catamarans, starting with the Excess 11.
A recent client request for a smaller catamaran without a flybridge had us thinking. That structure demands headroom above the cabin top, thus cutting the mainsail down to the point where it's really not doing much at all. What you get in practice is a power boat with sail assist downwind. That's fine for many charterers, but not so attractive to those of us who really want to extract some boat speed from the wind when it's available. 
The Excess range places the helm back down aft where it used to be. The helmsperson is once more in close contact with the rest of the crew and more sheltered from the elements. The sail plan gives us back some balance and power in the rig, and we can go sailing again!
The Excess 11 is currently available in most fleets and we're looking forward to the larger models trickling in over time. We really like the look of the whole Excess range.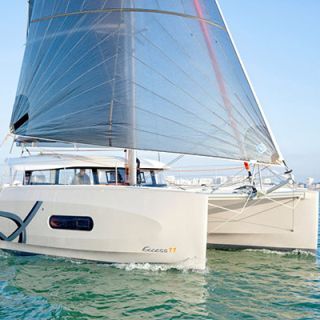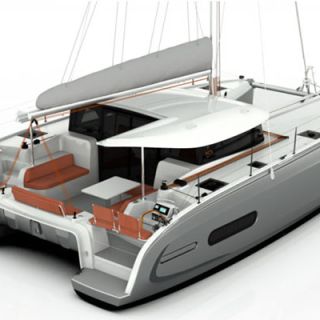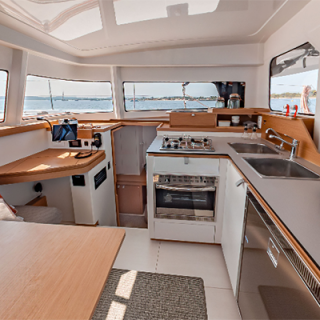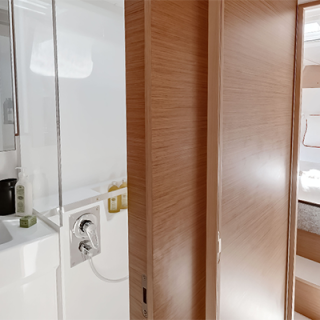 Charter through a trusted broker: more value at no extra cost!
At Sail Connections we're always on the lookout for brand new boats entering the fleets. Typically those are the ones snapped up when booking season comes around, especially for the most popular sailing months. Whatever size of boat you're looking for, catamaran or monohull, bareboat or with crew, we have the network to get in and secure the right boat for you when you call on us first. 
If considering sailing in the Mediterranean in 2023, do please contact us as soon as your plan starts to come together. When you charter through a trusted broker, you get the added value of an extra layer of service and security - and It costs no more. Let us work with you to produce the sailing holiday you dream of.