Sailing in the Seychelles: a charterer's report
in 2022 we arranged a sailboat charter for intrepid travelers Rick and Kathryn, USA residents planning their next adventure, this time in the Indian Ocean and Africa.  It would begin with a three-week Seychelles Islands vacation. 
Kathryn and Rick's fascinating kathrynandricksblog.com records their travel experiences. With their permission, we have taken some extracts from their Seychelles charter account that should be interesting and useful information for everyone considering that spectacular destination. We hope you enjoy it. Their full Seychelles adventure can be read here.
Arriving in Mahe and transferring to Praslin
When we arrived on the island of Mahe in the Seychelles we learned that we didn't need a visa, but we did need a travel authorization which we could have applied for in advance had we known about it. Instead we spent about 20 mins and a bunch more money applying for it at the airport
We are spending the next 2 days in an apartment on Praslin (pronounced pralin), the island where we pick up the boat. We took a taxi from the airport to the ferry.  Our taxi driver gave us a very brief history of the Seychelles. It was first colonized by the French and then the British took it over.   Our taxi driver told us that today the Seychelles are independent but part of the British Commonwealth. 
The ferry ride was about an hour, then once we arrived on Praslin, it was a 5 min walk to our apartment.   
Charter day 1: Checking in at the charter base
It was about a 5 minute walk from apartment to base.  Our boat was returning from its previous charter and needed to be cleaned before we could board. So we left our suitcases at the base and took a taxi to our favorite bakery, Jenny's which serves breakfast and lunch. We wanted to go to the grocery store for imported food so we left Jenny's at 12:30 and started walking there.  We were ambling along, stopping at benches in the shade to stay cool.  At one such bench I checked my phone to see how much further and realized that they closed at one o'clock! 
We called a taxi to take us back to the base.  Our taxi driver told us that the Seychelles are home to about 100,000 people - 6,000 on Praslin, 3,000 on La Digue, and the rest on Mahe, the main island.  It seems to be a mix of people, people from Africa, India, Mauritius, and a few Europeans.
Finally at about 4:00 the boat was ready for us.  Luckily that staff helped us carry our food and suitcases aboard.  I unpacked while Rick familiarized himself with the boat.  There were for other charters starting the same day so we did not get our chart briefing or boat briefing before their quitting time.  We have a 52 ft Dufour named Vanga.  It has 5 cabins and 3 heads. 
Charter day 2: Praslin charter base
We got our chart briefing this morning.  When we were planning this trip we expected that we would be spending a lot of time exploring islands. At the chart briefing we learned that we could not anchor overnight at many of the smaller islands.  Some are private, some just don't have a good anchorage spot and some are too exposed to wind and waves. Instead it sounds like we will be doing day trips to visit these small islands to see beautiful beaches and enjoy some great snorkeling and then returning to one of the main islands to spend the night. We think we will spend roughly a week in La Digue, a week in Praslin, and a week in Mahe. 
After the charter briefing we had the boat briefing.  There were a few issues which we got squared away by noon.  The biggest disappointment is that we don't have a freezer. During our sailing trip in New Caledonia we had a freezer and bought food for the whole three week trip when provisioning before we left the base.  We won't be doing that this time. 
Rick spent that afternoon getting familiar with the electronics and making a plan for our departure to La Digue tomorrow morning. We spent the night at the base because by the time we were ready to leave it was too late. 
Charter day 3: Praslin - La Digue
We waited for staff to arrive and help take the boat off the dock.  Finally we are on the water.  We had to back out of the lagoon we were in and that was a little difficult but Rick managed it just fine.  Then we motored to La Digue. 
La Digue is said to be the most beautiful island in the Seychelles or at least the most photographed.  It is never overrun by tourist because of the lack of accommodations.  The island itself is only 3.5 miles long and 2 miles wide.  It has a population of about 3,000 people.
It only took us an hour to travel there.  We didn't put the sails up because we were headed right into the wind.  We arrived and anchored off the island. We dinghied into the inner harbor and with the help of some locals we found the dinghy dock.  Then we walked around the very small town of La Passe.  It has a very nice vibe. The main road consists of pavers and everyone is riding bikes. 
We enjoyed a late lunch of barbeque. The grocery store was better than the Praslin store but still we couldn't get cold cuts, at least not at a reasonable price.  With our grocery shopping done we headed back to the boat to shower and relax.  There were six other boats in the outer harbor with us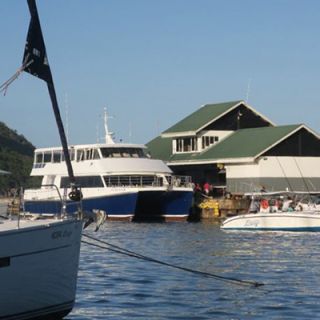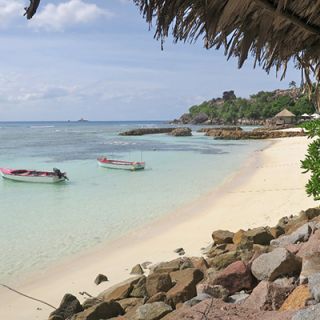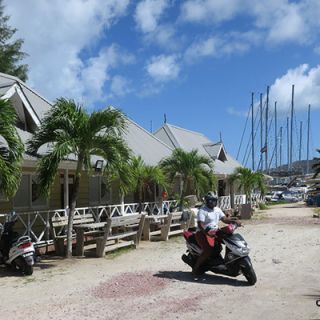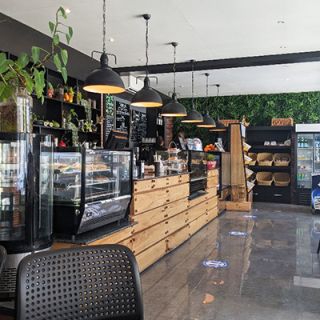 Our-favorite-coffee-shop-on-praslin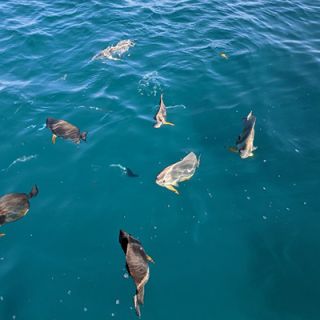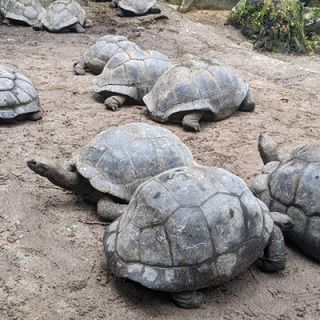 Day 4: La Digue
We are not in an ideal location.  Typically sailboats moor in La Digue's inner harbor however they are rebuilding the retaining wall so we have to be in the outer harbor which is less protected and more susceptible to swells. 
We had planned to sail to a private island, anchor off and do some snorkeling but it was quite windy so we opted for plan B.  After a hardy breakfast, around noon, we headed into the island and rented bikes. 
We rode down to an old coconut plantation, only about two miles away.  La Digue's main industry used to be coconut oil but the world has largely moved away from coconut oil to palm oil so the planation is no longer active. 
We biked on to the tortoise enclosure which contained about 25 tortoises.  The sign said they were up to 100 years old and said they eat a wide variety of grasses, leaves, and fruits.  It also said we shouldn't scratch their shells because it was painful for them and can lead to illness.  There were people in the pen, feeding and petting the animals so I got in too.  The tortoises really liked being petted on their necks and heads and would stretch their necks out to be pet. Once the petting started they didn't move.  It was very endearing.
Then we rode on to Anse Source D'Argent which is supposed to the most beautiful beach in the Seychelles.  It lived up to its reputation.  There were huge boulders which looked sort of like The Baths at Virgin Gorda, BVIs. A long path led to the water, then back around some boulders and back to the beach.  The sand was very soft and fine.  It was really beautiful.
Day 5: La Digue to Felicite to La Digue
We left for Felicite around 11.  It's only about three miles so it didn't take long.  For the short journeys it doesn't make sense to put the sails up so we motored the whole way. 
We anchored close to the shore and the reef.  There were five catamarans and several smaller boats already there.  Felicite is beautiful just like all the other islands. While we were there a helicopter came twice to drop off or pick people up from the resort. 
We donned our snorkel gear.  We saw lots of fish but I don't know most of their names.  The sergeant majors were hanging around me, hoping for food.  I also saw a barracuda and a school of yellow and white striped fish.  The school probably contained 1,000 fish and when they were eating off the coral they looked a huge flock of butterflies. 
The trip back was quick and uneventful.  The anchorage is quite crowded tonight. There are probably 18 boats here.
Day 6: La Digue to Praslin
We spent the night anchored in La Digue.  Not only were we rocking and rolling but the water was slapping the back of the boat, making an awful racket.
We agreed that we did not want to spend another night in La Digue.  It was overcast, would sprinkle intermittently, and we got one strong downpour. So, we headed back to Praslin.  It was a short trip so we just motored, no sails.  Anse Gouvernmente seemed like it had a rocky bottom and we didn't want the anchor to get stuck, so we moved on to the next bay, Anse Volbert. 
There was a small reef off the beach where we had anchored.  We dinghied to the shore and tied up to a tree.  We snorkeled for about an hour.  I saw several barracudas and many of the same fish as I saw yesterday. We are expecting to sleep much better tonight because the bay is very well protected.
Day 7: Curieuse Island
We had a great night's sleep in the nice calm Baie Pasquiere.  We were one of only three boats in the bay. After lunch we headed over to Curieuse Island, which was right across from where we were anchored.  It was too far to dinghy so we pulled the anchor and moved the boat. 
Curieuse Island is a national park.  Ron, a park ranger, told us a little about the island.
The Seychelles consists of 115 islands and Curieuse is the fifth largest, behind Mahe, Praslin, La Digue, and Silhouette.  For many years it was a leper colony. There was a large house near where we came ashore which had been the house of the doctor who took care of the lepers.
More recently the island was designated as a national park and a home for about 100 giant Seychelle tortoises.  It's also one of two locations that you can find the Coco de Mer tree, which is the national symbol of The Seychelles.  Ron recommended we take the 1.7 km path to Baie de la Raie to see the tortoises.  It had some ups and downs and some boardwalks through the mangroves.  
An interesting note, I asked Ron, the park ranger, if the Seychelles ever get hit with hurricanes or typhons.  He said no because the Seychelles are only about four degrees south of the equator and cyclones can't form on the equator.  Islands further south, like Madagascar and Reunion Island, are vulnerable to cyclones. They impact the weather in the Seychelles, but not seriously.
We planned to return to the same anchorage as the previous night.  It is close to a resort called Raffles and Rick was hoping to go to dinner in one of their restaurants. However we were told that the restaurants are for guests only. Too bad.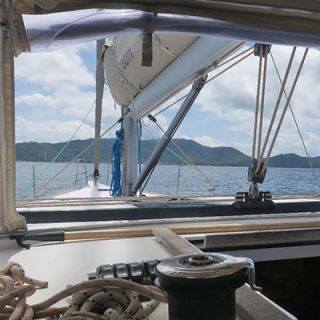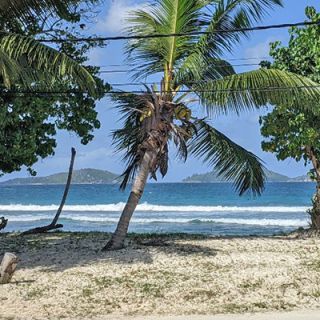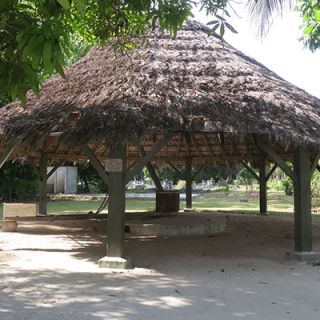 Historical-La-Digue-coconut-oil-plantation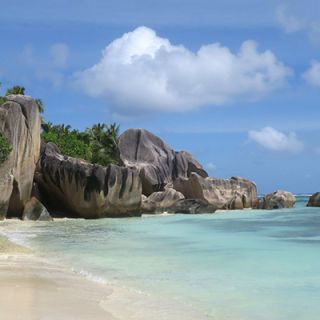 Day 8: Praslin to La Digue
We had another calm night in Baie Pasquiere.  This is the national park and we knew that we need to be out of there by 9:00 or else pay another fee for the day. We decided to go back to La Digue because it has more facilities than Praslin. It has grocery stores and restaurants that are easily found when we dinghy into town. 
We walked down the street, checking out the menus as we passed restaurants.  We ended up at a small hotel with a restaurant surrounded by a lovely garden. We had a pizza and it was really good.
A couple of random thoughts, We are on a 52 ft boat (which can sleep up to 10). We were a little worried that the boat would be a lot for the two of us to handle, but we haven't had any issues. The other thing is mostly Europeans seem to come to the Seychelles. Mostly we hear German being spoken. We have run into a few South Africans and a few folks from the Middle East and Israel, but no other Americans.
Days 9 & 10:  La Digue
We had a very rocky and rolly night but we both slept. Next day It was overcast and rainy all day so we stayed inside and read.
The following night it was relatively calm and we woke up to a sunny day.  We walked north around the island to see the sights.  It was about two miles each way.
Day 11: La Digue to Grand Sueur to Praslin
We left La Digue around 10 and motored to Grand Soeur, an island which we had been told had great snorkeling.  It was a relatively short distance so we motored.  There were other boats there and we watched them after we got ourselves anchored.  It appeared that there was a strong current running between Petite and Grand Sour because we saw a paddle boarder that couldn't make it back to his boat and had to be towed back by the dinghy. We also watched a dinghy try to land on the island, but it was too rough and they turned around.  Nobody was snorkeling.  All these observations discouraged us from attempting to snorkel.  So we had some lunch on the boat and enjoyed the scenery. 
We left Grand Sour around 1pm and decided to head to a bay on Praslin instead of returning to La Digue.  The harbor has relatively easy access to Aride Island which is a bird sanctuary. It took us about two hours to motor to Anse Lazio, which is on the northern end of Praslin. Along the way we pass St Pierre island which is often photographed on Seychelles promotional literature. 
We arrived at Anse Lazio, a beautiful, well protected bay.  Overall Anse Lazio is a great spot because we are not in the marine park so there is no charge, it's well protected and we can get a taxi from here to go anywhere on the island.
Day 12: Anse Lazio to Aride Island to Baie St Anne
We were up early and pulled the anchor by 7am.  We had been told at the chart briefing that we needed to be at a Aride Island, the bird sanctuary island, by 9am.  The island was only five miles away, and we motored over there and arrived around 8. 
Here Rick and Kathryn talk about an incident in which the dinghy got caught under the swim platform and partly submerged, which affected their plans for the day. There was some damage to the dinghy, however the base staff brought out a replacement including motor. 
To add insult to injury, there wasn't any other boat at Aride when we left around 10 so we think that there might not have been island tours that day!
We sat at anchor for a little while just taking a few deep breaths.  As we always say, something will happen, and hopefully that's the only something of this trip. We motored back to Anse Lazio where we relaxed and had a quiet evening.
Day 13: Praslin
We decided to go to Vallee de Mai today and have a private tour.  I found a tour guide who was available for an afternoon tour.  We decided to go ashore to organize a taxi to take us to Vallee de Mai.  
On our way to the Vallee de Mai our taxi driver was telling us about his experience during the 2004 tsunami.  He said that all the water between Praslin and La Digue was sucked into the wave.  He said you could walk from Praslin to Curieuse.  He also told us that the tortoises somehow knew to go to higher ground.
We arrived at Vallee de Mai and met our guide, Medina, and her 9-year-old daughter, Ciara. 
Vallee de Mai is a well-preserved palm forest and one of two UNESCO sites in the Seychelles.  It is home to the Coco de Mer which is endemic to Praslin and produces the largest seed and fruit in the plant kingdom.  The fruit takes 6-7 years to mature and weighs 30-60 pounds. The seed can take up to two years to germinate and the tree typically matures in 20 to 30 years.  The tree generally grows from 75 to 140 ft and lives for up to 250 years. 
Medina was a wonderful guide and her daughter was delightful.  We really enjoyed ourselves with them.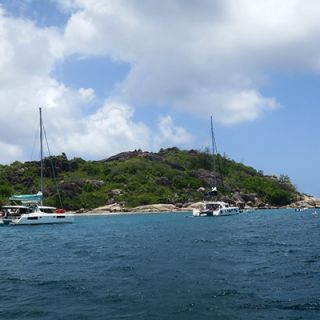 Cats-anchored-at-Grand-Soeur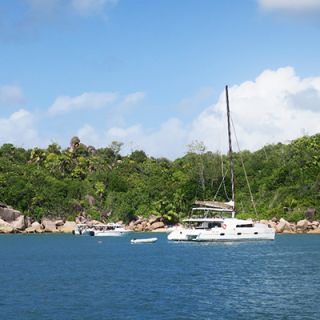 Anse-Lazio-a-beautiful-well-protected-bay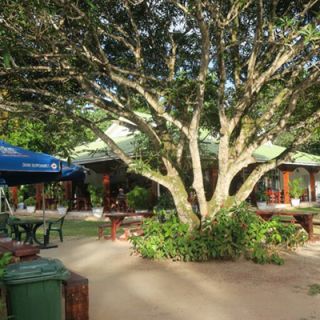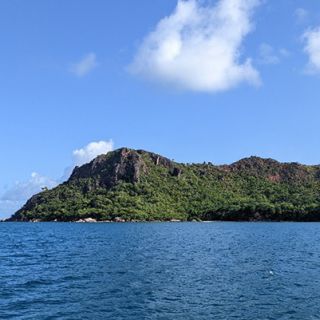 Anse-Lazio-to-Baie-St-Anne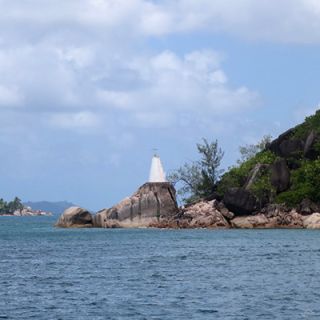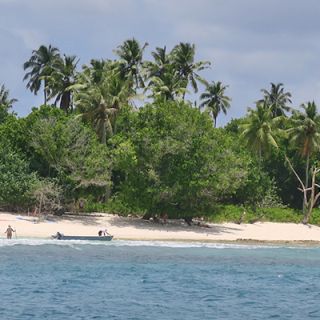 Day 14: Praslin
We feel like we have seen pretty much everything on Praslin and La Digue. We are somewhat disappointed with the anchorage in La Digue. Praslin doesn't have many good anchorages either, and the island isn't as accessible to things like restaurants and provisions by boat as some of the other places we have sailed. We considered sailing to Mahe, but it would be a rough 6 hour sail each way. 
A quiet, lazy, recharge-our-batteries day.  We worked on a presentation that Rick is giving to the Saratoga Lake Sailing Club about cruising two days after we get back home. We relaxed until late afternoon when we took a dinghy ride along the edge of the bay, looking for places that we could tie up the dinghy and snorkel tomorrow.
Day 15 & 16: Praslin
We started out the day by heading ashore and going for a walk.  Ashore we were headed to the grocery store.  We didn't want to take a taxi to the international grocery store because that was going to cost us about $60 round trip.  But we didn't make it walking because there was a large hill and it was quite hot.  We will continue to eat the food we have on the boat and we may go out to dinner at the local restaurant if we run out. 
A pod of dolphins swam into the bay, the fish all hopping out of the water to get out of their way. The dolphins swam around, probably having breakfast, until some jetskiers got too close and chased them away. 
We had some lunch and relaxed before going snorkeling just off the beach. We came back to the boat and investigated other harbors that we could go to but didn't find anything so I think we are hanging here for a couple more nights. We have come to the conclusion that we should have rented a catamaran because they have a shallower draft and can get into more harbors. Live and learn! 
Next day we just hung out on the boat, watching the other boats in the bay and I read my book.  There wasn't anywhere new to walk or snorkel, so we just relaxed on the boat and enjoyed this beautiful harbor. 
We planned too much time in the Seychelles because we didn't really know what to expect.  We have a plan for the rest of our time here so we should have more to report tomorrow. 
Day 17: Praslin to Cousin Island to Praslin
We were up early this morning and "off the hook" by 7am. We were headed to Cousin Island, the site of Aride Island's sister bird sanctuary (note: we have found out that Aride Island is closed and no longer giving tours.  I wish we knew that before we anchored there and our dinghy broke in the swells).  It was another short ride, only about five miles, so we were anchored there by 8:15.
The boat arrived around 10; there were two other people in the boat.  They don't let you bring your dinghy ashore because they want to make sure no predators end up on the island, as they've completely eradicated the varmints that eat bird eggs.  We were in a wooden dory which they drove right up on shore. 
Our tour guide was named Jules. He told us that he visited the island 10 years ago and never left.  He, like the other tour guides, live on the island.  They give tours in the morning and do conservation work in the afternoon. 
Cousin has been a nature reserve since 1968 and before that it was a coconut plantation. The coconut trees have been cleared, making way for more indigenous trees that harbor and nurture the bird populations. The island has lots of small rocks which are actually hardened bird guano.  It is a great fertilizer so the trees grow very quickly, but their roots can't go very deep so they don't live very long. 
There were four main birds that we saw on the island: brown noddies, white terns, white-tailed tropicbirds and the endangered Seychelles magpie robin. There are also about 60 Aldabra giant tortoises on the island. 
We got back to our boat around 12:30, then we pulled the anchor and returned to our favorite bay, Anse Lazio.
After we got anchored, I went snorkeling (Rick didn't feel like going, but he watched me from the boat to make sure I was OK).  Mostly I saw the same fish we saw the other day, but I also saw a squadron (yup, that's right, skates come in squadrons) of 10 skates. 
Day 18: Praslin
Another quiet day in Anse Lazio harbor.  We considered going to La Digue, but didn't want to risk another rocky, rolly night. We looked at the charts for another harbor to go to, but couldn't find one given the current south easterly winds. So we decided to sit tight and have another low key day on the boat.  It was a beautiful day with a nice cool breeze.  We did go snorkeling and saw some amazing fish. 
We had decided to turn the boat in a couple of days early and get an apartment in Seychelles capital Victoria starting October 19.
This evening we started packing up our stuff.  We are getting ready to drop the boat off tomorrow, take a ferry to Mahe and spend the next few days running around Victoria and driving to the sights to be seen on the island. Then we leave for Madagascar.
Day 19: Back to base and ferry to Mahe
We said goodbye to Anse Lazio around 8am.  It was really a beautiful bay and we will miss it.  We motored back to Baie St Anne where the base is.
When we arrived we anchored and waited for someone from the base to come out and bring the boat into the dock.   Rick probably could have handled it but it's easier to let someone else do it. 
We got checked out and finished packing up our bags.  We will miss living on a sailboat.  It is very relaxing for us, but we need to start off on the next leg of our adventure.  We took the 2pm ferry from Praslin to Mahe. We got a taxi to our Airbnb, which is a small hotel.
We relaxed for a while before going out to dinner at the restaurant associated with the hotel.  It got very high ratings on Tripadvisor and was excellent. It was a prix fixe and we got a lot of food. Everything was delicious.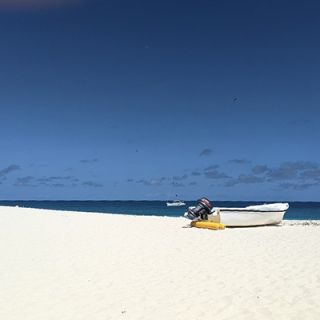 Cousin-Island-white-sand-expanse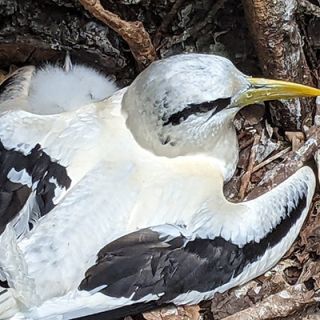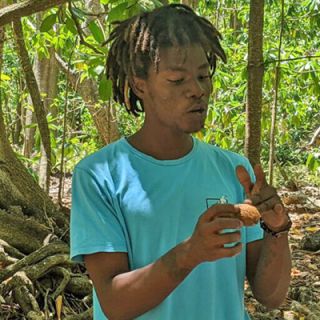 Guide-at-Cousin-Is Nature-Reserve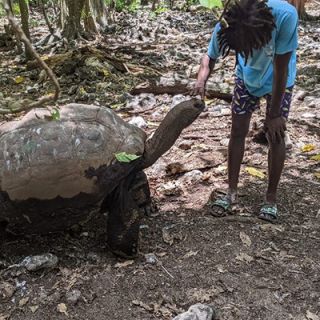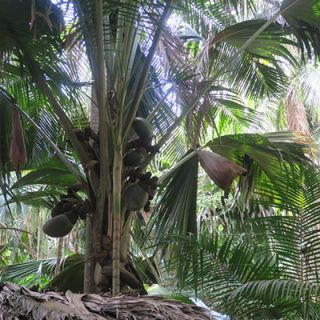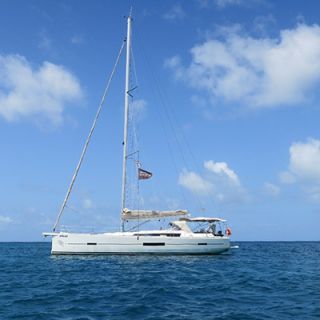 Staying in Mahe before traveling on
Today was an overcast day with some rain, but we made the best of it.  It felt like we interacted with a lot of locals and got a better flavor for life in the Seychelles.  I realized that living on a boat makes it difficult to engage with others.
Victoria is a city for the local population.  It is clear that tourists go to the resorts and don't spend much time in the city. We took a taxi to the botanical gardens.  They consisted of a lot of palm trees, tropical plants and of course some giant tortoises.
Next day after collecting our hire car we headed south along the Mahe eastern coast.  Our first stop was the Takamaka Rum factory. We also walked around the property and, of course had a stop and say hi to Taka and Maka, the aldabra tortoises on the factory grounds.
We drove to Beau Vallon, the one bay we could have anchored in if we had come by boat. It is one of the more touristy areas of Mahe.  We parked the car and walked a path along the beach.  A lot of people selling boat day trips were positioned there as well as souvenir stalls and small restaurants.
The road does not go all the way around the island.  There is a walking trail that connects the two ends of the road. There are quite a few walking trails in the center and mountainous area of the island. But it is quite hot to go hiking, so it's something we opted not to do. We turned around and came back to Beau Vallon because there is an Indian restaurant that we wanted to go to.  We ordered enough food for lunch and dinner and really enjoyed it.
We returned to Victoria and went to Eden Island, which is the main marina for the island. Sunsail, Dream Yacht Charters main competitor (we chartered with Dream Yacht), is located on Eden Island. Eden Island is a man-made island which I believe was created using the same technology that was used in Dubai to create islands there, probably financed by them too. 
Seychelles Summary
Two things really stood out about the Seychelles.  First of course, it has beautiful beaches and stunning granite boulders. The second is the friendliness, warmth, and kindness of the Seychellois.  Everyone was wonderful!
From a sailing perspective it was not what we had expected.  We should have rented a catamaran.  Our monohull had a deeper draft that limited where we could go and where we could anchor.  On La Digue there was only one anchorage and on Praslin there were three that could accommodate our boat.  If we had sailed to Mahe there was only one viable anchorage. There were a lot of little islands near the three main islands but most of them were private so we couldn't go ashore and the anchorages were not protected enough to spend the night for either a monohull or a catamaran.   
The other issue we had with the boat was that it didn't have a freezer.  This meant we either had to go food shopping every couple of days or go to restaurants a lot. When we were on La Digue that wasn't a problem because there were lots of restaurants and grocery stores close to the dinghy dock. The one bay on Praslin that accommodated our boat had one uninspiring restaurant and no grocery store within walking distance, forcing us to eat on the boat.
We didn't put up the sails at all.  The distances from one island (islands that our charter contract allowed us to visit) to the next was short and it just wasn't worth putting up the sails.  It also seemed that we were always headed right into the wind or sailing directly downwind.  Most people didn't think it was worth hassling with the sails for the direction or distances we needed to cover.
On a positive note we really enjoyed our tours at Vallee de Mai, Cousin Bird Sanctuary, and our visit to Curieuse Island. 
In summary, I'd say the Seychelles is a good vacation spot if you want to lay on a beach and relax.  If you want to sail, definitely get a catamaran and plan for one to two weeks unless you want to sail to Mahe.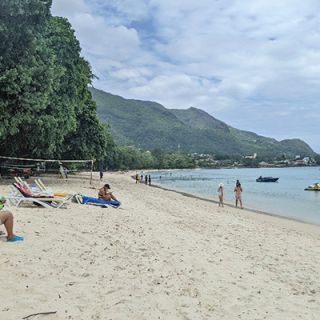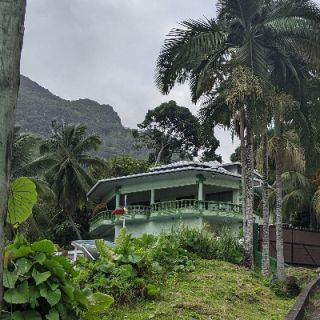 Seychelles-president-s-house