Charter Sailing Sicily, including the Egadi Islands
After leaving Corsica on our 2018 Mediterranean charter familiarisation, we made a spot decision to spend some time in and around Sicily. We choose Palermo for our starting point for two reasons. The Sicilian capital was a convenient base for sailing either east to the popular Aeolian Islands, or west and south the same distance to the Egadi (Aegadian) Islands. However the main factor in using Palermo was the near-new Oceanis 38 showing as available there, just three days out from charter.
I had hectically searched from a hotel in Paris on Wednesday, to find a boat somewhere of interest I had not visited before so as to start sailing on Saturday. Not a planning strategy that I recommend. but one that allows me to fit in as much sailing as possible while in the Mediterranean.
The Aeolian Islands saved for another time
The Aeolians it was to be then, or so I initially thought. Although in contemplating this charter the lesser-known Egadi Islands had also drawn my attention. Then when talking to the base manager and learning of unseasonal easterly winds forecast, the decision to sail west became an easy one.
There was some regret about leaving out the Aeolian Islands, as that is where many of our clients choose to sail. Ideally I would have liked to gain some first-hand knowledge of that well-beaten path. On the other hand with time always a limitation, perhaps it's better to be the advance scout, checking out lesser-known places of merit that need to be discovered.
Away from the tourist trail, Palermo is a dump to be blunt! The old town is a redeeming feature, with its abundance of culture and architecture. But don't wander too far. The marina itself has layers of history. The mansion standing right above our boat's berth was built by Vincenzo Florio Snr in the mid 1800's for his ailing daughter, so she may breathe the fresh sea air and drink the mineral spring waters.
The Florio name is synonymous with an Egadis Itinerary, and it seemed fitting that we cast off from what would have been a private mooring in Vincenzo's day. We accessed the boat via stone steps, accompanied by the endless trickle of spring water that has worked on the cliff face over thousands of years. We would come across Vincenzo again, an industrialist who succeeded with style and ingenuity, representing the essence of Italian excellence.
Palermo and the northwest corner of Sicily
It was early August, and we ventured out of Palermo knowing full well how the Italians love their speed boats. Here, the resident fleet of large craft is not sufficient to create the congestion you find in other centres. The fizz boats however, packed to the gunwales with day-trippers can be trouble. Watch out for them at all times.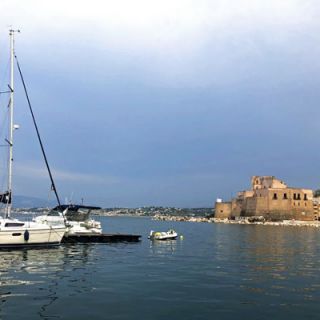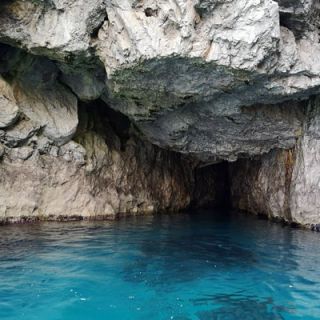 Palermo is not the ideal base from which to sail to the Egadi Islands, as it's a 50 mile passage taking in the northwest coast of Sicily. But it meant we ran out of time to visit Marsala, though we did call into Trapani, both bases more conveniently located to the Egadis. Trapani was a pretty little town, be it at the end of the airport runway. And it would have been nice to see a bit more of the Sicilian coast. There is so much to see along and in close proximity to the shore, as reported back by charterers who have done a full circumnavigation of Sicily. A three-week charter (at least) is needed for that journey. .
With only a week available we had to cover some distance on day one, which took us to the ancient town of Castellammaire del Golfo. Marina staff waved us in, but by now we were familiar with the style of Italian marina management. It appears the marinas are privately owned, with some, including this one, set up for every finger to be separately owned. As the owners come out to meet you in their boats with offers of help to dock, it's quite accepted to motor around seeking prices and negotiating. The one price I did get on the water turned out to be quite a bit less than the shore office tried to charge us. We declined, moving back out and anchoring in the bay behind a large breakwater making for a perfect anchorage
Next morning we explored Castellammaire and its castle, then headed back out along the peninsular passing quaint little towns and several suitable anchorages. There were many dive boats out. We learned that the antiquities on the sea-floor have been intentionally left and chronicled in situ, a time-capsule museum for the adventurous to view where they lie.
Having called at Castellammaire in its wide bay, some extra miles were added to our trip. But it was worth it for the spectacular scenery. Soon enough we rounded the corner and set a course for Isola di Levanzo, our first call at the Egadi Islands.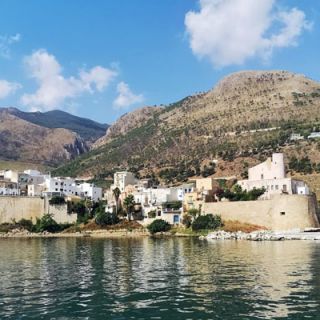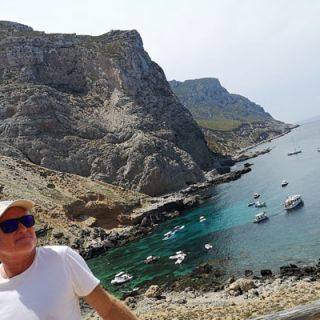 The Egadi Islands exceed expectations
Arriving on dusk, we found the bay to the north of Levanzo town and anchored for the night. There are moorings here but if they are taken, the bay's size provides plenty of room to anchor. We took the dinghy round the point and enjoyed a truly memorable evening ashore in this magical little town.
Hugging the coast of Levanzo we noted any number of isolated bays we could have stopped at to enjoy, all by ourselves. But we plugged on to the island of Marettimo, a rocky landscape that rises some 270m from the sea. This is mostly a nature reserve, with a castle you can walk to the top of. A tip when doing such excursions: even though there are no shops, always take some cash. The places of history are free but the enthusiastic students engaged by the parks authority to tell you all about it are otherwise unpaid and work for koha (donations). I felt guilty having no cash on hand, but I was not about to go back for some then walk up that hill again!
We learned about the poor souls who had been politically imprisoned in the castle dungeon, as well as the natural world of whales and dolphins that feed in the rich marine environment. We learned there is even a Mediterranean seal in these parts, but only in the winter months. I wonder where they go for summer.
In the Marettimo marine reserve the authorities have placed mooring buoys, identifying this as a sensitive area with a delicate seafloor on which anchoring is otherwise prohibited. The anchorages are orderly as a result, and the mooring rates fair.
Favignana and its fascinating back story
We saved the best to last - the main Island of Favignana. Here we were to again meet up with the enterprise of Vincenzo; 19th century owner of the fishing resource, not to mention the entire island at one stage. We had been told the former Florio delle Tonnare plant (tuna fish museum) was well worth a visit. On hearing this I had been somewhat sceptical, even condescending, in imagining some old cannery like I'd seen in the Pacific and elsewhere; rusting hulks of corrugated iron and degrading concrete.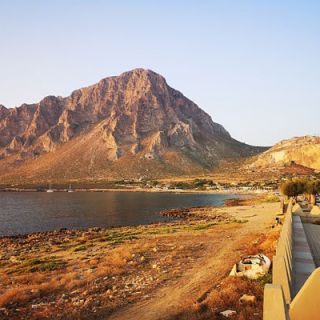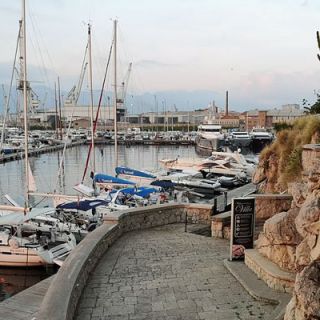 What we found was a beautiful architecturally-designed building and the most modern of museums; a pure example of uncompromising Italian style as applied by those who can afford it. The museum was our first stop on Favignana, which in hindsight was not the best plan. We should have explored the island first, which would have put the exhibits in better context and made more sense of what we were yet to see outside. For the rest of our time ashore, I was desperately trying to recall what I had read at the museum so I could apply it more effectively to what we were seeing.
For instance the seriously ancient Caves of Favignana are an incredible sight to behold; an underground city that Homer mentions in The Odyssey, describing it even then as long abandoned. The scars in the rock from the tools that honed out these caverns blew my mind. I needed someone to explain how stone-age man could dig such a city into the rock. Hard rock too: the Romans prized this island for its marble, which they used in building their Coliseum amongst other edifices. The workings we saw were not however quarried by Romans equipped with iron tools, but by people who had settled long before, carving out their shelters with the most primitive implements.
There is mention in the museum of the prehistoric era, the many conquests the Egadis have been subjected to through the ages and methods of warfare used, as well as the tuna industry that once dominated the island economy. If you speak Italian you can engage with a holograph to learn more. A truly great museum set in a town with much to be proud of. Thanks in no small part to Vincenzo Florio, who also gave the world Marsala wine and was the founding father of that city as well.
With plenty to see on the way back to Palermo and just one night left on charter, we headed back up the coast and took in some of the places we had sailed by earlier. Sicily had been a fabulous last minute destination choice, and the Egadi Islands now come to you highly recommended. Perhaps as part of a Sicilian circumnavigation: what we can now picture much more clearly and advise on, as one of the very best sailing holidays of the numerous Mediterranean boat charters available.