A Week of Sailing the French Riviera
Picture a sailing charter in the South of France, and what comes most likely to mind is a cruise among the super yachts along the Côte d'Azur. That's where you find the glitz and glamour of Monaco, St Tropez, Nice and Cannes. But there's more to the French Mediterranean coast than the section that stretches eastward to the Italian border. Westward lies another charter experience, where the coastline is dotted with seaside towns and quiet bays that relatively speaking, sail somewhat under the radar.
Think of the South of France as two sailing regions, between which lies Toulon, the central point of access through Port Pin Rolland, the main charter sailing base. On any sailing itinerary, the base is where it all begins. When we visited in the summer of 2018, Port Pin Rolland provided our crew with all the right first impressions; an excellent place to chill out in preparation for charter. Taking the short walk over the peninsula to beach bars and restaurants facing the Mediterranean, we cooled off with a dip and walked through the market before dinner.
Sailing out of Toulon: East or West?
With preconceived ideas of the French Riviera, we were somewhat surprised to learn that the most positive client feedback comes following holiday charters that sail west. This was confirmed when talking with local flotilla lead crews whose charters use Port Pin Rolland. I got the impression that while the east promises much, there is less in store to pleasantly surprise compared with the lesser known western coastline. Our schedule allowed just limited time to the west of Toulon, so a full first-hand comparison would have to wait. What we saw certainly left us keen to return and explore further.
So here we were on a Saturday, rubbing fenders with the world's elite on a very tight budget. I had concerns about how the linguistic challenges of a visit to this region, having been schooled in New Zealand and not learning any French. As a tourist I'd learned the greetings and other pleasantries, but beyond that I was at the mercy of the person I was conversing with. If they couldn't or wouldn't speak English, I just hoped they had the patience to understand and return my gestures. The French are known as great mimes, and fortunately it all seemed to work out.
We found the marina staff knowledgeable and generally pleasant to deal with. But there are some local idiosyncrasies, especially for those of us who do not speak French. Staff have more than adequate English for the job, but sometimes only when it suits them. At other times they get pleasure from watching the frustration as we play charades in an effort to communicate.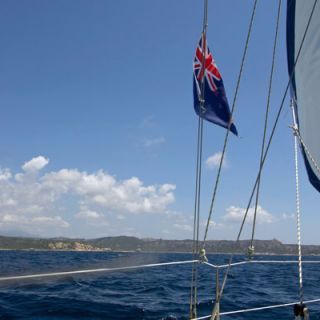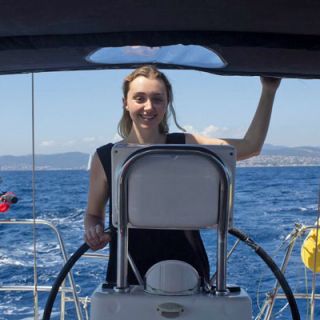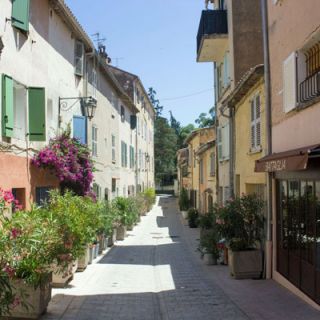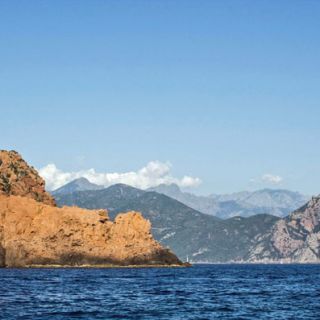 I learned this when I woke the marina attendant at Port Miou in my early-morning haste to get going. It was a bit too early for his liking. Having handed in the boat's papers at the marina office (capitainerie) on arrival, as is the requirement in France, I wanted to collect them, pay up and move on. So when I asked for the papers for Baudelaire, our charter craft, a somewhat put-out attendant feigned a lack of comprehension, standing staunch while waiting for me to lose my Kiwi accent.
Our point of reference to the boat's name was the Baudelaire family in the gothic movie Lemony Snicket, which depicts a series of mishaps. When our attendant finally sensed that enough frustration had been achieved, he quickly dismissed this reference. "Bah! Stupid children's movie. Charles Baudelaire, famous 18th century French poet". Despite until now appearing to have little conversational English, he volunteered a Baudelaire poem titled The Man and the Sea. "Free man, you will always cherish the sea. The sea is your mirror, you contemplate your soul ...". Recited in perfect English.
Coastal Provence is Absolutely Fabulous
Port Miou was our first port of call, 20 nautical miles west of Port Pin Rolland. We docked at the marina set hard up against the imposing cliffs of Calanques National Park, which neighbours the quintessential Provence town of Cassis. Visiting Cassis was a wonderful experience, buzzing as it was with local tourism for the holiday season. One gets the feeling the French like to keep the best bits for themselves, a ploy that's overcome when travelling independently such as we were on charter. Along the way to Port Miou we had stopped in a small cove of crystal clear water for lunch and a swim. There, on a Sunday during peak season, we shared that lovely spot with merely half a dozen other boats.  
With some reluctance but a majority for the bright lights of the Riviera, on Monday we turned back east from Port Miou. There was no time on this trip for the big city of Marseilles and its surrounding coastline. We stopped for lunch in a lovely little marina town called Sanary. The marinas don't charge for day stops, so it's worthwhile to drop in, charge up and water up, then move on to an anchorage for the night. Particularly if the budget is tight or you prefer the space and freedom of being at anchor.
With the aim of covering the ground to see as much as possible at times having to override the family holiday aspect of the trip, our plan had us sailing onward at a somewhat hectic pace. On a typical sailing holiday charter, the area covered so far in two days would be better seen over a week; time to relax and enjoy everything about the fabulous region of Provence.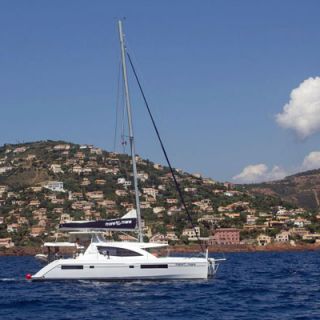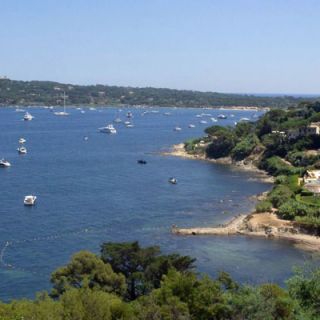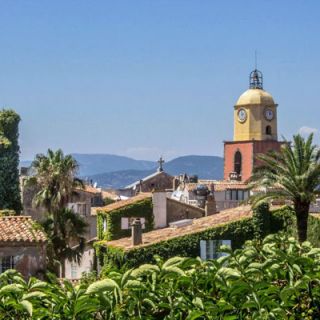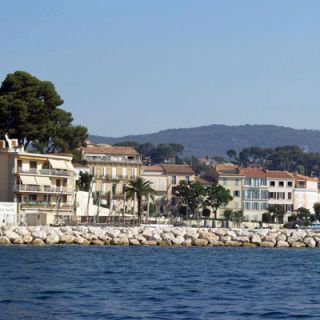 Also influencing our decision to turn back east was a predicted Mistral wind arriving late afternoon Tuesday; the plan was to be in St Tropez to ride out any bad weather. French weather forecasting is reliable, in so much as the variables of the Mistral events allow. This time the wind came early, and the Mistral arrived on Monday afternoon.
When just short of the entrance to the marina on the island of Port Cros, the sky went black. We'd seen the clouds building to the west and knew they were advancing, but the Mistral event nevertheless took us by surprise.
Suddenly the temperature dropped by 20° C. The flat water behind us was being whipped in circles and had turned a shade to match the stormy sky. Next minute a wall of wind hit us, changing direction by 180°. With it came heavy rain and lightning. We were never worried, just heading the boat into the wind and holding station while keeping dry under the bimini for about one hour. Then the sky cleared and a beautiful evening followed. As a learning experience, this episode was welcome; a stark reminder that even in late July in the Mediterranean, stormy weather events can happen.
A Zone of Contrasts: the Natural and the Glamorous
Port Cros is the main port of the four Îsles d'Hyères (Porquerolles Islands), largely designated a nature and marine reserve. The island group is a popular domestic French destination for people seeking natural destinations rather than visiting cities and towns. There are extensive walks that as well as bringing visitors close to nature provide a glimpse into history via the remnants of past industries on the islands.
There a several good anchorages and always a sheltered side whatever the wind direction. The Hyères region is a sailing destination in its own right, with numerous places to explore over an extended period when combined with the nearby mainland coast.
We had no time for such a stay and the next day found us anchoring in Baie des Canebiers, a large sheltered bay adjoining the marina at St Tropez. We had a swim and let the heat of the day pass before securing a marina, a process that in this instance involved a simple VHF call to the captanarie (harbour master's office). Within minutes a rib appeared to guide us in.
We found the assistance received when entering and leaving these French marinas is readily available, and we recommend full use of the excellent service. The marina spaces are tight and boat paintwork expensive, so the willing help of marina staff is always advised. For just an €80 marina fee and we now had this elitist destination on the resumé.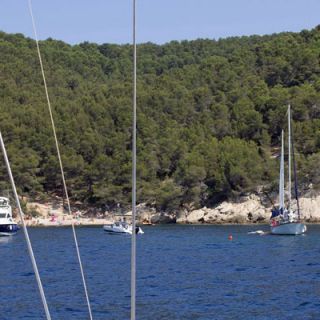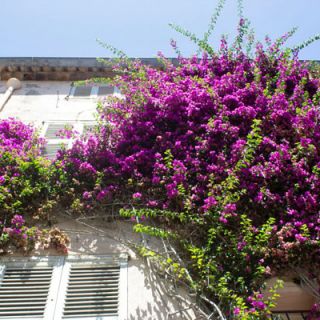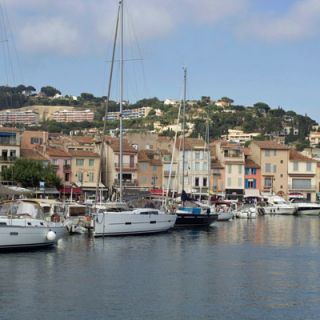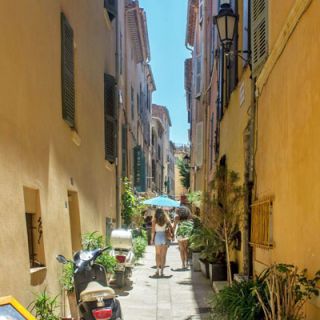 With the rich and famous in mind, the question of cost always arises. What surprised the most about the Côte d'Azur was how reasonably priced the marina berths actually are. No doubt prices are competitive due to the readily available space to anchor in sheltered waters and pay nothing at all, rather than the supply of alternative marina options. The same went for St Tropez and Nice. In both ports we found adjoining bays to anchor or pick up a mooring, and take the dinghy ashore.
Wednesday saw us meandering down a scenic coast dotted with lavish estates set in groves of cyprus trees. There was time to stop for a swim just outside Rade d'Agay, which could have been any one of the numerous pieces of sandy beach we passed along the way. Then on to Port de Cannes, where we had another hassle-free experience getting into a marina.
South of France: Not to be Overlooked as a Charter Sailing Holiday Destination
In planning to use marina berths, we would always try to arrive a little early. Berths are allocated on a first-come basis, for now at least. Booking systems are taking hold, and advance bookings are increasingly being advised. It's important to ensure an arrival time is clearly agreed on reservation. There's no guarantee that if arriving just a little late, the berth won't have been given it to someone else!
Cannes was spectacular; a beautiful city with classic architecture and a vibrant waterfront.  The movie world is evident all year, not just when Hollywood comes to town. Mini-festivals with one theme or another appear by the advertising and infrastructure to be running all the time. Our marina was surprisingly cheaper again, just €48 and we effectively had our own three-bedroom floating waterfront apartment in Cannes!
While our sailing holiday on the French Riviera was fleeting, it was enough to make us wonder why this is not more popular with international charterers. We saw most of the coast and many towns of significance. We could pick and choose what looked interesting and worth a stop, and if we wanted a swim we could find a sandy beach. For us there was no catching a ferry to offshore islands, no booking a car or motel, no eating all meals in cafes and lugging bags around. On several occasions we took a taxi inland for specific purposes, but found most interest in the coastal towns. In such a popular and worthwhile coastal destination, there is only one way to do it in style: by boat.
Our pace slowed as we made our way down to Nice, then on to Villefranche Sur Mer, our final stop along the coast. By now it was Saturday. From here one can keep going on to Monaco and Italy, but by now we'd spent a week on the Riviera and we had other plans. The next morning we rose early before the sun, and set sail in the direction of Corsica.