Bareboat Charter on a Larger Catamaran
With the market in cruising catamarans trending towards larger models, bareboat charter companies are progressively meeting the changing demand. Now you can enjoy sailing one of the larger catamarans: models such as the Saba 50 and Lagoon 52 with six double cabins providing enough room for a couple of families, or a good-sixed group of friends.
Previously a catamaran of 50 foot and up came with a crew-only option. It is still common to hire a skipper and/or crew to take care of the craft while on charter. That leaves more time to enjoy your holiday and get more out of it by making use of the built-in local knowledge aboard. But for many experienced sailors, bareboat is the way to go, and now it's possible on a big cat. The purpose of this brief guide is to provide some tips and reassurance if needed to anyone considering a larger-catamaran charter.
In boating, more size means more comfort, and modern catamarans are equipped to your sailing holiday pleasure at all times. Conveniences once considered luxuries are now standard in the bigger cats. Air conditioning to all cabins, a water maker to keep up with the demands of showering, and a sophisticated power system that delivers to all the appliances you could expect ashore or afloat.
On board at anchor or underway there is room to while away your holiday time in luxury. The cabins are spacious and equipped with ensuite, the saloon is big enough for everyone to congregate in one space, and there's always a spot where you can get away and lay back in peace with a good book.
A big catamaran is faster and quieter, bringing more comfort not only at while anchor but also at sea. Consider her footprint, that of a large raft spanning the chop of the sea state instead of riding each wave individually as a smaller boat must do. Smooth and secure sailing for all aboard no matter their individual level of familiarity with holidays afloat.
How hard is it to operate a large catamaran?
Not hard at all. Staff at your embarkation base conduct a thorough boat briefing prior to departure, as they do before handing over any charter boat. We always recommend that multiple members of charter parties attend their briefings. In the anticipation of casting off it's not always easy to remember every instruction and piece of advice, and learning a procedure along with fellow crew is simply good practice. And not everything can be left to the skipper. Operations like making water are best left to others aboard while the skipper concentrates on piloting the boat. Sharing responsibilities on a bareboat charter makes for an enjoyable holiday for all on board.
The most daunting part of handling a big and unfamiliar boat is usually getting in and out of the marina. The good news here is that it is done for you. Once underway on your charter, you will quickly adapt to the mooring and general boat-handling practices required. After all, the principles are much the same as what you are used to on a smaller vessel. Everything is just a bit bigger and more powerful.
Take care when using power winches. Make sure ropes are unrestrained and free to run, particularly important when winching furling sail retrieval lines and the anchor. Make sure outhauls are let go before winding in a sail. When raising the anchor, allow the boat to ride up as the chain comes on board, pausing occasionally so the winch does not take the weight of the boat.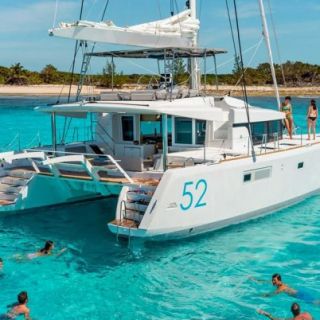 Holiday fun on a chartered Lagoon 52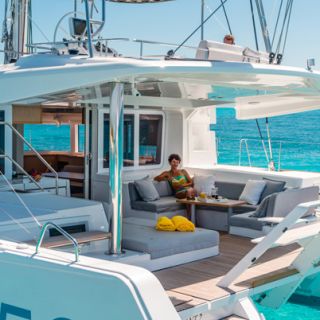 Aft sundeck on the Lagoon 52 catamaran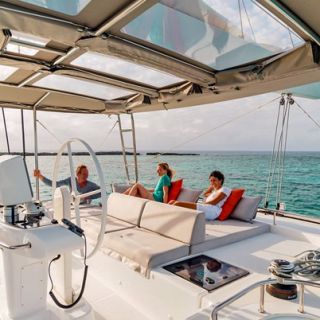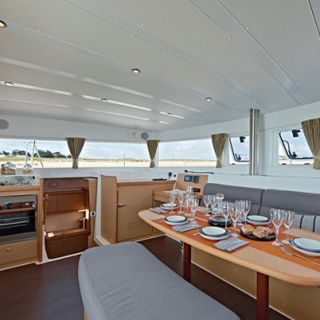 Main saloon on the Lagoon 52
Manoeuvring for mooring and setting the anchor
Picking up a mooring can be quite tricky, with the bow high off the water and a long way forward of your position at the helm. Expect to lose sight of your target long before it is within reach of the boat hook. It may seem counter-intuitive to come downwind onto a mooring. But if a wind is blowing, holding station while the mooring is secured is a lot easier with the boat stern to the wind. But have your forward hand provide pre-arranged hand signals. You are unlikely to hear vocalised instructions directed against the wind, although they will surely provide amusement to others in the bay.
In some locations mooring buoys have a small and most impractical eye for the boat hook. You may need to put a crew member into the dinghy to secure your mooring.
Position at anchor as you would with any boat, but keep in mind your swinging distance in relation to other craft. You are in charge of a big boat and that means a big circle if you swing 360° should the wind change or die in the night. When the anchor is deployed with the correct amount of chain released (around three times the high tide depth), a catamaran once bridled is particularly good at holding firm.
More chain is not better, as any excess will lie on the seafloor, anchoring the boat out of alignment and well back from the anchor. If a gust hits from a new direction, as the boat picks up the slack chain she is prone to moving across the wind. This can screw the anchor around and cause it to dislodge as the chain becomes taut. At a chain length of three times the water depth, the moving boat will simply pull back onto the anchor and the bow will come head to wind, avoiding the large area of windage that occurs when moving sideways. Too much less than the recommended chain length reduces the dampening effect of the chain that keeps the anchor shank low and the flutes bedded into the sand. Always attach the bridle. Even a mooring can move when fastened to a single hull and the boat rides diagonally into the wind.
Finally on anchoring, be aware of the ground you are setting the anchor into. Sand or mud provides best holding, while anchoring over coral and rock can cause damage to the environment and may even mean you don't get your anchor back.
All the electrical systems you could ask for
Today's big charter catamarans are equipped with all the features of modern living, and conveniences once considered luxuries are now standard. As well as all the gear that makes navigation easier and the audio-visual equipment for your entertainment, there is air conditioning to every cabin, and a water maker to keep up with the demands of showering, etc. Supplying the power drawn by a boat that accommodates upward of 12 people is a generating system of sufficient power, more often than not supported by solar panels.
On this standard of charter catamaran, you are aboard a veritable power station equipped with the most modern self-sufficient systems. Its operation is simple and reliable, and as long as it is monitored properly it will do its job without complaint. Some awareness of the system is however required, as is the knowledge to troubleshoot if alarms should sound. With the comprehensive manual at hand, basic troubleshooting can usually finger a problem, but if not operator support is never far away.
Operation of your on-board electrical system will vary according to the installation, and it will be explained at your pre-charter briefing. You will most likely have three different voltages on board: a 12 volt system to run the radios and sometimes lights; 24 volts to power high-load gear such as the winches, and 220/240 volts for mains power (rarely 110 volt). On the switchboard there is a setting for either ship's power or shore power. Once cast off from the marina you are on ship's power with your self-sufficient powerhouse to be managed accordingly.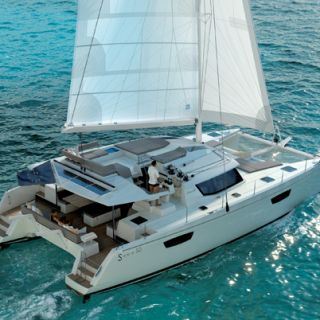 Large charter cat the Saba 50 under sail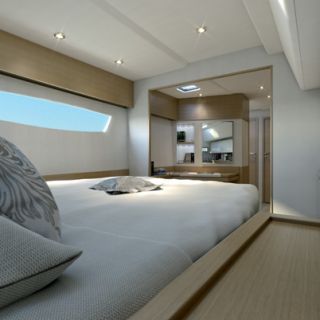 Spacious double cabin on the Saba 50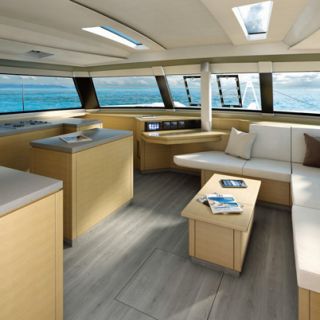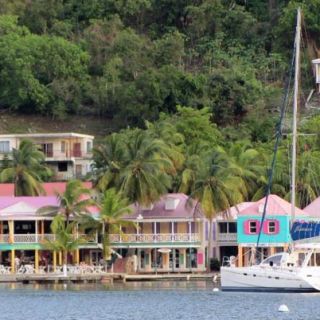 Charter a big cat in the BVI and many other places
Monitoring and managing your on-board power system
The 24-volt circuit usually runs through an inverter to provide mains power to the sockets. This will generally power up to 3kw and while it operates some appliances with or without the generator running, it is a big drain on the batteries in the latter situation. Larger appliances such as the microwave and oven will only operate when the generator is running. Be aware of what is powering off the batteries, and keep a close eye on the voltmeter. 24 volts is a minimum charge, and your batteries are happier sitting over 25 volts. When they get close to 24 volts, run the generator for a period. The main engines are also fitted with alternators for charging the batteries, but sometimes this is only applicable to the 12-volt system.
Remember that an operating generator, especially if fitted without a dry exhaust, is often audible to others in the bay. So be considerate, monitor levels when the load is on in the early evening, and plan so you don't have to run the generator late at night or early morning.
Getting your water maker to operate just right can be a bit of an art, as you learn to engage the flow through the membrane to the correct operating pressure and ensure it holds there. When sailing a catamaran with the water maker running, it is common for the inlet on a windward hull to momentarily lift and suck in air, at which point the water maker shuts down. You can make water in the bay as long as it is clean, or sailing with the inlet working on the leeward hull.
I have had occasion when the water maker inlet has picked up rubbish. Once on a Lagoon 450 that was only a year old, crustaceans had formed completely over the inlet grate. It was made of bronze and as such should have had a silicon coating for antifouling, such as is applied to the propeller. The antifouling paint used had fallen off.
During your bareboat holiday you are in charge of your ship, and as such we ask that you do all you can to keep things in order. Early on in your charter, dive down with a mask to ensure all inlets and outlets are clear of obstruction. Good operators conduct such an inspection after every charter, but marina water is often cloudy and issues cannot always be observed and corrected. A good skipper monitors the health of his boat's systems and makes sure all is well during operation.
Why not indulge in the experience of chartering a larger catamaran?
So there you have a short guide on what to expect in bareboat chartering a larger catamaran. Subject to a few aspects of handling a bigger and more complex vessel, there's not a lot more to sailing it than what you are used to. As for the comfort level, well that's just about in another world. If you have some good experience of sailing and skippering a cruising catamaran, it's time to step up to the next level. Talk to us about hiring a big cat for your next sailing holiday with family and/or friends.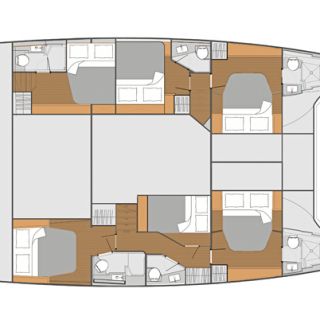 Layout of Saba 50 showing six double cabins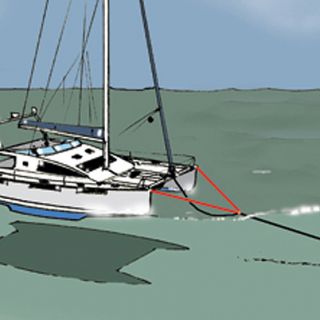 Anchored cat showing bridle setup