Bareboat Luxury at an Affordable Price: Crunching the Numbers
In 2019 the Bali 5.4 catamaran entered charter fleets with the bareboat option added. Until now such a large boat was only available with paid skipper and crew. This is a significant development in yacht chartering: it continues a recent trend towards larger boats progressively coming into charter on a self-skipper basis. That's facilitated in part by technological innovations that make sailing these boats as easy as smaller craft.
Previously the Lagoon 52 was the largest bareboat cat in charter, 15.8m in length with cabin accommodation for up to 12 people. The Bali 5.4's introduction adds another to the category of large luxury bareboats for charter; this one a metre longer with a little extra beam as well. That extra space is always welcome, especially when all six cabins are fully occupied.
In fact the Bali goes a step further than the 5 double + 1 twin of the Lagoon, offering six generous double cabins each with its own bathroom. That still leaves room for two singles in the bow as well, quite adequate for family use although mainly there for the crewed charters.  
So what does it cost to charter a Bali 5.4 bareboat if you have a group to fill it? Feedback we've received suggests that many people consider this boat and others of its class out of their price bracket. Breaking cost down on a per person basis however, the numbers often surprise!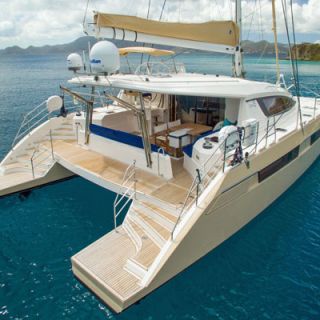 Charter bareboat in luxury on a Bali 5.4 catamaran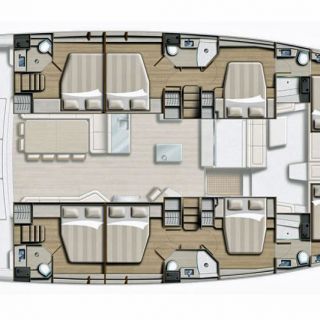 Bali 5.4's 6 double cabin layout
As of September 2019, you can charter a Bali 5.4 in Naples, Italy and various parts of the Caribbean. The Mediterranean season of six months provides operators less opportunity for revenue than in the longer-season Caribbean, so first up note that charter prices are usually lower in the latter destination.
 For the Mediterranean in 2020, prices for a bareboat Bali 4.5 range from 8850€ in shoulder season to 15,475€ in peak, giving an average price of 12,162€. With 14 people aboard, you're all set for a fantastic luxury holiday (albeit self-catering) at just 868€ per head for a week or 124€ per day. Even at 12 people, the cost is very competitive with that for a land-based vacation. Think about the hotel costs, the dining and the local transport.
Out of Naples you would need to budget for extras if planning to use marinas and/or dine ashore. But at anchor and making the most of the boat you've chartered, those extras can be kept completely discretionary, resulting in big savings during the course of your week.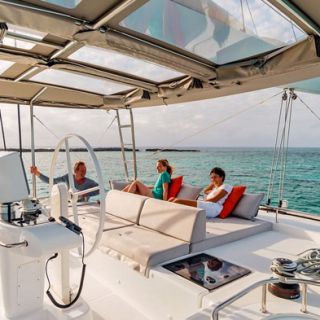 Popular large bareboat catamaran: the Lagoon 52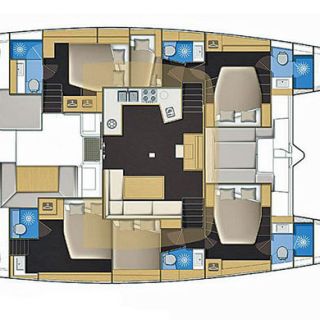 6-cabin layout on the Lagoon 52
In the Caribbean the average weekly price for the same bareboat Bali 5.4 comes down to 10,171€ for a week for 14 people. That's over the whole season, and at the time you may wish to sail the price may be more, or less. But the point remains that high-end charter catamaran luxury is accessible. Holiday sailing aboard your 54ft yacht with friends and family, living a life previously reserved for the wealthy, it is affordable.
Alternatively, take the luxury aspect up a notch and put on a crew to host your group of 12. A skipper and hostess will add 2660€ to the charter. That's still just 1235€ per person for a week in the Mediterranean and 1069€ for the week in the Caribbean. Just add your provisions, and you have your own private cruise, without the buffet queues, the tacky commercialism, and the time-consuming hassles getting on and off the ship for excursions.
Both bareboat and crewed, smaller groups makes little difference to per-person cost. The boat size is adjusted for your accommodation needs, and the total cost comes down, with less people to spread it amongst. Or conversely, charter as a small group of four and take a smaller boat at a lower price. Triple the group size and pay no extra per person.
The idea of charter sailing aboard one of the new-generation luxury catamarans is taking off. It's such a great way to holiday at sea and see the places you've previously dreamed of visiting. It's an affordable option; all you need to do is sell the concept to friends and family, and make this an activity that's part of your world.
Note: Prices quoted in this article are intended as an indication only and exclude extras. All prices are subject to change.