Rob's Row Boat, AKA the Crosscraft 2.6
Just eight years on from buying a leading-brand inflatable dinghy. I find it now in need of replacement. My relationship with this craft has been in a state of decline for some time, and while despatching it to the landfill irks my environmental conscience, the thought of replacing it with a rigid dinghy has proved reason for celebration.
In need of a new dinghy tender
In looking at the options for a new dinghy, the temptation was to buy a larger rigid-floor inflatable. Such a vessel was in fact high on my list of must-have boating accessories, impressed as I was by what everyone else was doing. Until, that was, I stopped to think about it.
Recognising the obvious trend towards bigger dinghies that take more powerful outboards, I nevertheless had an issue. They are not landing craft. Sailing with such overgrown dinghies/excursion craft requires a second tender in which we can easily get ashore. Neither the size of my boat or my budget could accommodate this. So what was the alternative?
When out sailing I like to go ashore, and so does my dog Louie. And we want the option of an enjoyable row in getting there. Discovering rowing again has been a pleasure. Not only am I getting exercise in the process, but the leisurely pace provides for easy integration with the boating community as I progress effortlessly past yachts at anchor and through the bay. There is a non-intrusive compatibility with the world when manning oars. It is a timeless act that has never lost its appeal.
There is no greater truth to say than that every boat design involves compromise. A small dinghy cannot fulfill every purpose required of a support craft when cruising. The boat you want demands staying true to feaatures of greatest priority and building them into the design. One thing I was not going to compromise on was its compact size, 2.6M. I was determined to keep it light and easy to handle. This would be a dinghy for transporting up to six people, but mostly 2 adults and a small dog.
On my final priority list were the following features and functions:
· Row well and be easily driven by a 2hp outboard
· Light, strong, stable and made to last
· Seating for correct weight distribution
· Tow well with stability at all speeds in all sea states
· Dry without water intake from spray while under tow
· Under motor spray spreads outwards so passengers stay dry
· Easy to board while swimming
· Simple to clear of rain water 
· Tolerant of dragging up the beach, free of concern for damage
· Plenty of grab holds and tie-down points
· Padded for coming alongside.
Sharon's list of requirements was shorter:  .
· To get in and out of the dinghy with her shoes on
· Somewhere to put her water bottle
· Dry space for bags
Sharon's first priority above in fact and quite surprisingly resulted in the feature that would most define this boat, also delivering some of the objectives on my list. That would be the bow plank landing platform requiring a raised fordeck, setting the front seating aft while providing for seaworthy qualities.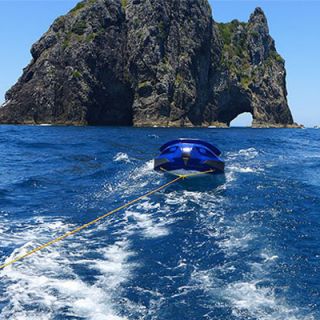 Completing first hundred miles under tow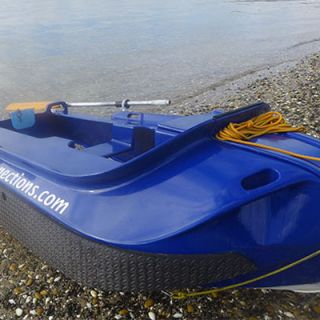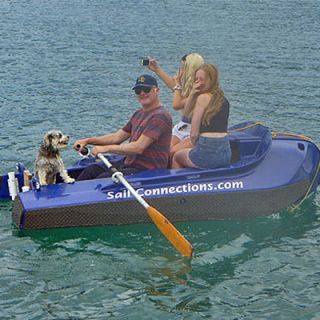 Crosscraft 2.6 under row power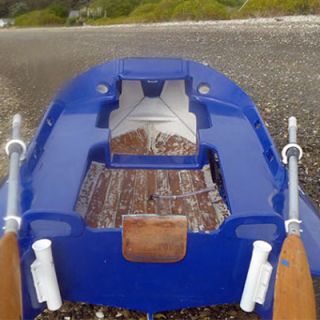 Rear view shows rowing setup
Boat design basics with some modern innovations
I had the best possible starting point ; a traditional dinghy framed up by my father some 25 years earlier. My father's life quest had been to build a better dinghy, and I cannot remember a time when there was not a boat under construction on the property. This craft had been his best dinghy to date, the pinnacle of his endeavours after some 20-plus dinghies he had built before. But now it was time for a complete makeover. 
The modifications I made above the waterline provided for reserve buoyancy without interference with my ideal dinghy hull shape. Topside changes meet the modern expectations for boating, and will serve well for years to come. The bottom is not yet painted as I plan for Kevlar sheaths where there is wear during typical summer use. I am not a fan of wheels and its possible to make the bottom tougher than what it will be dragged over. The floor at this stage retains the character of the original dinghy The accompanying photos with captions further explain what has been achieved. 
From the beginning, this boat has been fun to build. And it is immense fun to use, rowing effortlessly to the shore then lowering the bow plank to the beach and disembarking in style, and with dry feet! Under motor she is a dry ride and my passengers feel safe. I dont have to worry about the kids not being able to get the outboard going as rowing achieves progress in all conditions, even for junior rowers. I even take on the excursions, maybe not at a fast pace with just 2 Hp but it feels safe and its fast enough. Whats the hurry?
The craft is easy enough to raise on the yacht's transom, but so far I have preferred to put it to the towing test. Towed under sail and exceeding 10 knots at times in challenging seas, she has passed with full marks.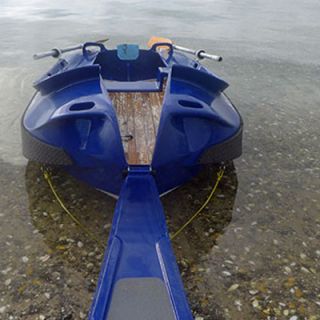 With bow plank landing platform, ready to board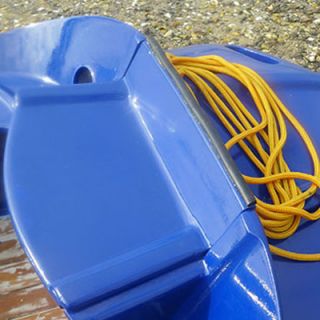 Front seat for 2 each side keeps weight central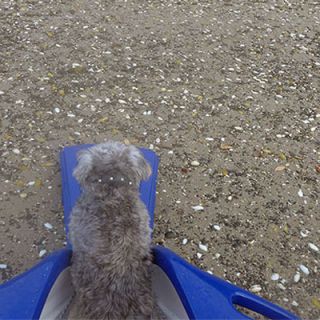 Louie, first out in style with dry paws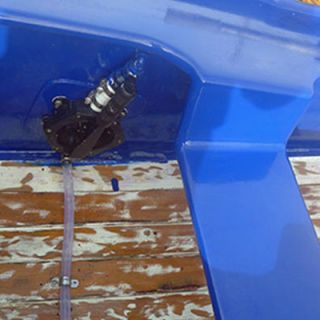 On the water in a better dinghy
Building a boat such as this where function rules over form risked creating something visually hideous. But as the boat took shape, what emerged was rather pleasing to the eye. At each step in construction I looked forward to the next panel forming the sketch I had in my mind. I was excited as the concept took shape and became reality, to the point where finishing her off has in a way left a gap in my life. I find that applying my practical skills is a healthy distraction from my day job working at a computer.
I now have more than a tender for cruising the bays of NZ, I have a little boat I can build a relationship with. We will look after each other, and it's a relationship to last. But just as recreational boatbuilding was for my father, I feel a restlessness brought on by my pre-dispositioned imperative, building a better dinghy.
There will no doubt be a Crosscraft 2.6 version two, and that will involve some minor changes. There is nothing major to be done, but such is a prototype that it forms the basis on which improvements can be made.
Looking ahead, I would like to build future craft in a mold to an engineered layup, thus saving on weight, time and cost. As you read this, I hope it is of interest. I look forward to the day when mine is not the only Crosscraft 2.6 on the beach. Anyways I think my one-off is pretty cool and i'm enjoying it immensely.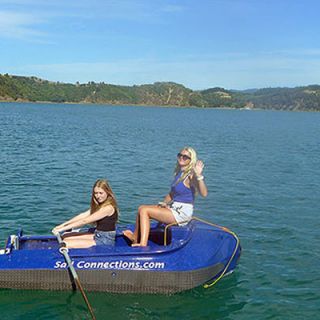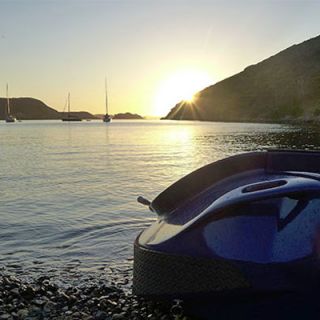 Sunset in Deep Water Cove