New Caledonia: Sensational Sailing in a Land of Contrast
For the family or group of friends taking a boat charter holiday, New Caledonia is the ideal Pacific island destination. For that picture-perfect tropical island vista, those blue waters lapping that long, white-sand beach lined with pines and coconut palms over which a moody volcanic peak stands sentinel, New Caledonia, with its charming mix of French and Melanesian culture, is the place to be.
New Caledonia completes the set of superb Pacific Island yacht charter sailing experiences. While Tonga is the most benign of destinations, its charter waters fully enclosed within an all-encompassing lagoon, and Tahiti's various islands require short ocean pasages, satisfying the more adventurous charterers while still providing easy family sailing, New Caledonia offers a balanced mix of conditions that complements those places well. 
Sailing the great New Caledonian lagoon
One large lagoon, the largest on earth in fact and recognised as a World Heritage site, that also gives access to deep-water ocean sailing if desired, this is a sailing area with variety. The coastline of the southern New Caledonia mainland contrasts starkly with the coral islands of the barrier reef.  In between, the waters around the Isle of Pines offer a moderate sailing challenge and a passage to ensure the keen sailors aboard will get all they want from your charter. 
Your charter will begin in Port Moselle in the heart of Noumea. Conveniently, the local market and shops are just a short walk away so provisioning is a breeze. As anywhere, shop as the locals do and you will find the cost of essentials quite reasonable. The local traders may speak little English, but you will get by as travellers do, coming away laden with all the supplies you will need, especially when complemented along the way by the bounty of the sea.  
These are extensive sailing grounds that require quite a lot of sailing getting from place to place. Most charterers explore the southern mainland coast, before crossing to the Isle of Pines and then sailing back downwind through the southern atolls. It is easy to run out of time in which to take in all the attractions of this stunning destination, so good research and pre-planning is essential.
The New Caledonia sailboat charter fleet comprises mostly catamarans, and there are some considerations in choosing a boat. As an example, the Catana 47 is a popular choice and well suited to this destination. Its dagger boards help to minimise leeway under sail, which can be comforting when navigating narrow reef passages. At anchor the boards are easily retracted, enabling you to moor in shallow water close to shore. 
Here the trade winds blow from the southeast at an average of 16 knots - that being at the upper end of the range over winter, the lower end in summer. The morning winds tend to be light and variable, providing conditions for comfortable sailing and arrival at destination ready to enjoy the day. During the winter there is a chance of westerly winds that typically last for three days, which can mean finding an alternative to your planned anchorage.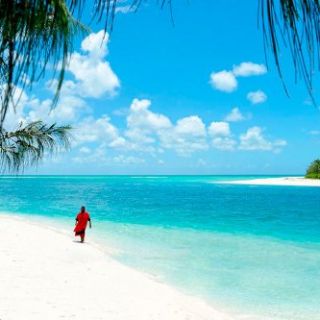 Almost deserted: on the beach at Ouvea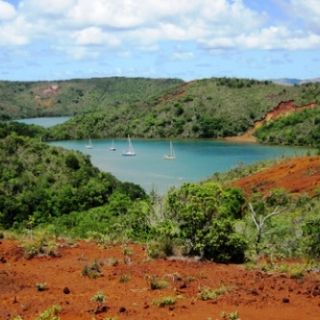 Prony Bay with its soil rich in minerals
Sailing further afield in New Caledonian waters
As well as the southern New Caledonia sailing grounds as defined by the lagoon, ocean passages can be arranged eastward to the Loyalty Islands, even as far as Vanuatu. Chartering to sail this much wider area requires a higher level of experience than the normal lagoon charter, and should be considered an ocean cruising adventure rather than a routine sailing holiday.
If considering a Pacific location less travelled, the Loyalty Islands offer an unbeatable experience. This is a passage back in time - a stunningly beautiful island group but with its best anchorages well spread and lacking the protection of a reef. In some parts of Ouvea landing permission must be obtained from the local chiefs. Treat the indigenous people and their customs with due respect and deference, and the rewards will come.
The voyage from Noumea to Lifou in the Loyalty Islands is over 100 nautical miles, with a further 40 miles to Ouvea. We recommend allowing at least two weeks for a one-way charter ex Noumea. Enjoy the downwind passages north and east and fly out of Ouvea, rather than sail the 140-mile return trip, which will be mostly upwind. If required we can arrange a skippered charter, making the voyage just as much fun and considerably more relaxing.
Settling out on your lagoon charter 
For most charterers, mainland New Caledonia's fabulous lagoon and close-offshore attractions are more than enough. This cruising area stretches south from Noumea some 60 miles to the Isle of Pines, with the outer reef some 35 miles further to the west.
Preparation is important in any charter, and that is especially so in Noumea. Once out of port there are few places to take in stores along the way, and the remoteness of most anchorages means any technical assistance will generally be by phone. By the time you have provisioned your boat, taken advantage of all the base manager's local knowledge and completed the mandatory skipper's briefing and other formalities, it will be getting late in the day. So expect to spend the first night in the marina, or alternatively at Ilot Maitre, just three miles along the coast. 
On your first full day, a good option is a morning sail to Baie de Lar Tortue (Turtle Bay). This pretty, sandy bay on the western tip of Isle Ouen is a popular anchorage well situated for exploring the nearby reefs. Stay overnight in this sheltered spot and become fully acclimatised and familiar with your boat, or move on after lunch to nearby Prony Bay.
One could easily spend a week's charter going no further than Prony Bay, such is the variety of coves, reefs and inlets you will be tempted to explore here. The southern end of New Caledonia is famous for the rich red soil that contrasts brilliantly against the deep green cover of the pines, and the area is calling out to be explored. The terrain is steep, with trees covering the landscape right down to the shore in most places. The red soil is clearly visible on the steeper slopes where the indigenous plant life struggles to maintain a hold. 
Extensive, beautiful, fascinating Prony Bay
A conspicuous Prony Bay landmark is the nickel mine processing and loading facility. This symbol of industry sits at odds with the beauty of its surroundings, and fortunately the mine itself lies out of view from the anchorages. While the contrast between heavy industry and the natural environment is only too plain to see, the structure, sparkling brilliantly in the sun, seems to add something momentous to the view. It's place in the landscape cannot be denied New Caledonia has around 25% of the world's nickel reserves. 
There is a good anchorage at Bonne Anse Rade De L'est, extending to the east of the large Recif du Prony, which sits across the Bay's entrance. The sandy beaches  are fringed with coral reefs and covered with a colourful variety of shells, something for which Prony Bay is famous. The adjacent land is all designated nature reserve, with well-marked tracks around the shoreline and up to the lighthouse from where you can view the entire cruising area up to Isle of Pines. In the first couple of bays the bottom is predominantly coral, and it is best to anchor further up, exploring by dinghy or along the foreshore track.
With Isle of Pines and the southern atolls beckoning, a couple of days is all you will likely have for Prony Bay. Motor up into Rade Du Norde (North Bay), the site of a former penal colony on the banks of a river, and take a look at Carenage Bay. The water is rich in minerals, becoming distinctly less clear the further you progress, but providing habitat for some of the most colourful coral to be found anywhere. Prony Bay is excellent for snorkelling and renown for some of its dive sites, such as the Aiguille Needle, a spire that rises 35m from the sea floor.
The landscape here is truly dramatic, with steep wooded hills on both sides of a narrow and extended passage of water. There are hot springs to be found, and many nature walks to enjoy if the time is available. Remember to clean footwear after walking on the red clay: it makes a mess of the boat, leaving stains that are hard to remove.
On leaving mainland New Caledonia and making for the Isle of Pines and islets of the barrier reef, one option is to sail out of Prony Island and spend your last night at Port Boise. Here at the eco-lodge is one of the few places on the journey where you can take time out from cooking aboard and enjoy a restaurant meal. The anchorage puts you in good position for a morning passage to the offshore islands.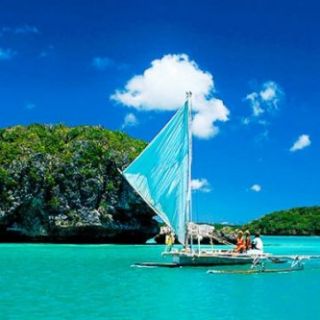 Local craft sailing the New Caledonia lagoon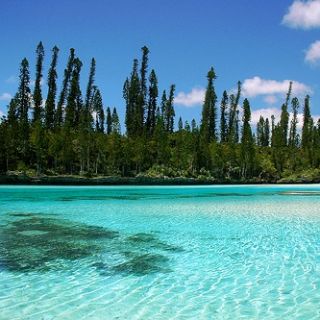 Where else but Ile des Pins
The Isle of Pines, a New Caledonia must-see
Leave Port Boise early to reach Isle of Pines by midday, leaving to port an expanse of reef and islets that comprise a protected nature reserve with prohibited access. This is a designated control area, where experts study the marine life and compare it with those parts of the reef where humans have had direct impact. 
From July to September this stretch of water is used by whales as they migrate northwards to breed. There is a lot of whale-watching activity in these months, something special you can enjoy, with luck, as you sail by. There aren't many places in the world where your charter will provide such a spectacle. 
The crossing to Isle of Pines generally requires a beat at around 30 degrees to the wind, with a final tack once on the lay line to Kuto Bay. In typical conditions the seas start off flat, a swell developing as you reach more open water. It's an easy sail for the reasonably experienced, on which you should make good time, arriving to enjoy lunch in this picture-perfect place.
The best thing to do on the isle of Pines is not a lot; take a couple of days at least to just enjoy being there. While so much lay at your feet in Kuto Bay, a day trip out to the surrounding reefs and islets is well worth the time, such is the natural splendour of this area. 
It is possible to sail around to the eastern side via the island's northern passage. However this requires care due to prevailing conditions, and prior advice on what to expect is strongly recommended. Alternatively, hire a rental car for a day or two, and explore the island that way.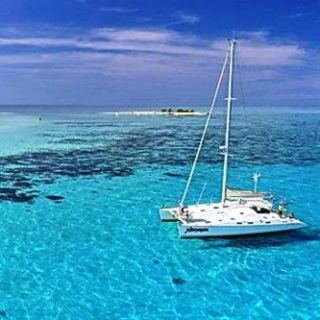 At anchor on New Caledonia's barrier reef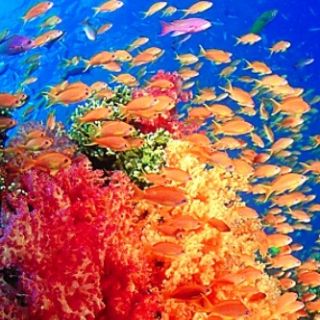 New Caledonia's colourful underwater world
Coral islands of the southern lagoon
When it's time to leave Isle of Pines, fair winds will have you on a comfortable reach across open water to the barrier reef and its small islands. This is a sail on which the casual observer is inevitably drawn to contemplate nature. Observe the very evolution of a coral island as it is played out in stages. The deep seabed formations that are safe to pass over will ultimately grow to the surface, to form the reefs all who come here must keep a watch for. Having cleared the surface, these expanses of coral serve as effective footholds for drifting sand, seeds and detritis dropped by passing birds, and the general flotsom of the tides. Before long, islands form, to become new homes for the native flora and fauna. It's a wonder to behold. 
Clusters of these countless small islets form here and there to offer shelter and a quiet anchorage from which to enjoy all that nature has to offer the privileged visitor. In these lagoon waters there is effectively a double layer of shelter from the sea - the outer barrier reef, complemented by the islet of choice in the lee of which you find anchor. The position may be relatively exposed, but the wind can usually be relied on to abate at night, rendering the waters calm and the surroundings serene. 
The waters are alive with sea life, and at times, particularly around dusk, the sky seems filled with birds. By night the thin veil of land you are sheltering behind gradually fades, creating a sense of being at anchor in the middle of the ocean, be it as calm as a pond. That's an experience that may take a bit fo getting used to, but one which will last pleasantly and long in the memory. 
Amedee Island and conclusion of your charter
All great charter holidays must come to an end, and when it's time to make way back towards Noumea it's likely to be with a sense of real regret thatb there simply wasn't more time. On your last day and with a 5.00pm deadline for getting back to base, resist the temptation to linger and set course northwards along the outer reef.
Lunch at Amedee Island, 12 miles out from Noumea where there's good anchoring and time for one last swim. The island is dominated by its 45 metre lighthouse, which seems to signal a farewell as you up-anchor for the final time and leave it astern, to conclude your New Caledonia charter.