A Sailing Holiday in Southeast Asia
On the western side of the long narrow peninsular that stretches Thailand southward until it becomes Malaysia, there's a tropical paradise. It's a popular international holiday destination of course, and people are drawn to this Andaman Sea coast for all the usual reasons - sun, sea, fun and the chance to escape real life for a while.
In better-known parts of this region, the balance between economic growth and traditional life is tenuous. Local culture has been supplanted by Western materialism, with the usual mix of winners and losers. But get away from the tourist crowds, turn the corner, and the real Southeast Asia is close at hand. That's one of the reasons bareboat yacht charters have become a fast-growing holiday activity in these waters.
The peak time for holidaying in Southeast Asia is December to May, when the skies are clear, the temperature is comfortable, and a steady offshore breeze provides enjoyable sailing conditions and plenty of shelter close to hand. But I'd heard this was an all-year round destination, so decided to experience it for myself, in the off-season. Booking a Lagoon 450 catamaran, our group of four adults and three children took off for a two-week charter in September, statistically the wettest month of the year.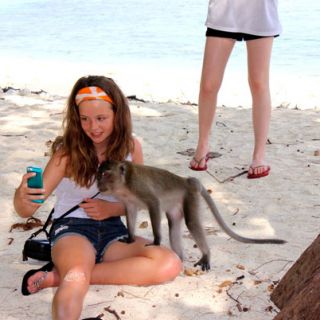 The western Thai-Malaysian charter boat zone is bookended by Phuket and Langkawi, tourist centers easy to get to and from. Having two weeks available and wanting to do as much exploring as possible, we decided on a return charter from Phuket. We were aware of the negatives around visiting Southeast Asia this time of year - the potential for monsoon rains, and with it humidity, and perhaps the lack of amenities in this the quiet period. Also the positives - better prices, less crowds, and more attentive service when we might need it.
In a nutshell, all the positives were there. As for the negatives, well it was hot, but not so that living aboard was uncomfortable and we resisted running the air conditioning most nights. The weather in fact surprised us, the biggest issue being the general lack of wind for the first half of the trip. Most of what rain we had fell overnight, and on just one day did it affect our plans to see more Langkawi by boat. Was it luck? According to the locals, there was nothing unusual about the weather pattern for that time of year.
From Phuket to Langkawi return we called at more small islands than we could recount. We were always within easy sailing distance of a sheltered anchorage, and there was always a resort nearby when we felt like a meal ashore. There were ample towns on route to replenish our supplies. There was some evidence that the low season was upon the local business community, but not so much that we, on board our spacious Lagoon 450, were unduly aware.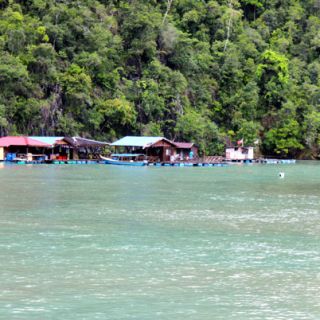 From Symi it's a very short sail to Turkey, with the port of Datca just 18km away. This part of Turkey, collectively known as the Turquoise Coast, is a popular charter destination in its own right. To enter Turkey from a Greek island requires planning ahead, as visas cannot be obtained on arrival and there's other paperwork too. If you are really keen to do a two-country charter, we suggest you consider Turkey as your base. So talk to us early if this is part of your plan, and we'll advise accordingly.
Finally on this whistle-stop tour of some of the Dodecanese Islands, to Tilos, somewhat off the beaten tourist track. Here you will find relative peace and quiet to enjoy the fine secluded beaches (some naturist-friendly), and quaint little villages that hark back to an earlier age. A great place to wind down and start thinking about the conclusion of your charter holiday, and the base on Rhodes, 80km due east.
If you are looking for a Mediterranean boat charter that serves up local hospitality of the highest order, has the life and commercial vigour expected of a popular tourist destination, yet offers the peacefulness of remote islands away from the crowd, all to be explored with a fair wind blowing and the weather all you could wish for, then the Dodecanese island group is an alternative to better-known places that is well worth considering. If you want another sailor's opinion, read this article on the Dodecanse published on the Telegraph website.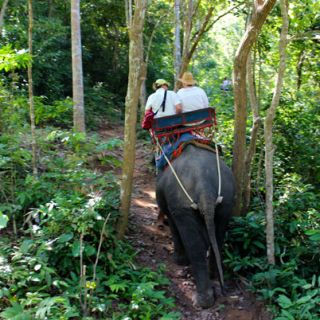 As for sailing the area and visiting its attractions, our crew got everything they had been anticipating. Close-up encounters with wildlife on land and underwater, an elephant ride, exposure to the fine local cuisine, swimming and playing on the beach, and lots of sun and relaxation.
Sailing these waters was leisurely to the point where quite a lot of motoring was involved but given we travelled some 350 nautical miles over 16 days and ran the generator a lot of the time when at anchor, the diesel bill (US$600) was surprisingly OK. All in all our Southeast Asian off-season boat charter gave us a holiday to remember. We'll be back.
If you would like to read more about our Southeast Asia bareboat yacht charter, have a read of Sailing Thailand and Malaysia: The Andaman Sea Coast