Huahine: Something Special in Tahiti's Society Islands
A sailing holiday in Tahiti offers up the idyllic Society Islands, where the standard voyage takes in all the main atolls and volcanic islands to cover as much as possible in the time available. Most Tahiti boat charters are taken Raiatea - return, but there are other options. Such as the one-way crewed charters that can begin in Huahine to maximise downwind sailing. Or there's something quite different: an extended stay on Huahine in conjunction with your charter, bareboat or crewed.
Introducing Huahine in the South Pacific
Huahine is top of our list of places to visit on a Tahiti boat charter, packed as it is with attractions natural and cultural alike. Sailing through the society Islands to the iconic peaks of that South Pacific paradise Bora Bora is not to be missed. But Huahine offers something else, something well worth checking out in more detail.
Huahine is a 40-minute flight from Fa'a'ā International Airport, Papeete. When you visit Huahine, the friendly local people ensure the experience you get is a truly authentic one. While you may be itching to do some deep-water sailing and see more of the famous archipelago, why not stay longer? Give yourself time to investigate the island's natural splendour and ancient Polynesian legacy as displayed at Faa'una Nui Lake in the village of Maeva. Immerse yourself in the cultural experiences on offer, such as taking part in a Ma'a Tahiti (traditional earth oven-cooked meal). Interact and engage, for those truly unforgettable experiences that enhance any holiday.  Here's how a one-way land and sail Huahine holiday can work.
A sailing charter lets you do all the things you want when you incorporate some time ashore. One of Huahine's best places to stay is Hotel Le Mahana, set in lovely tropical gardens on the white sandy beach of Avea Bay. We can arrange a day stay at Le Mahina as you wait for your boat's arrival. Or take a night or three in advance of your charter, for even more time to experience Huahine's delights.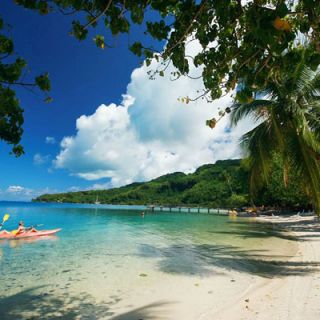 Beach at Le Mahana, Huahine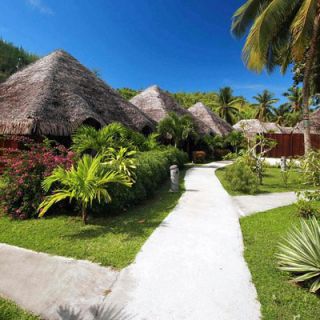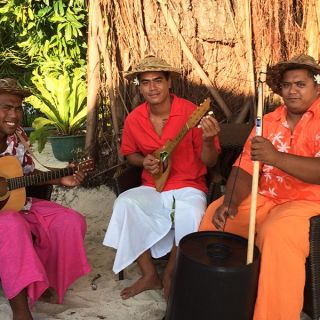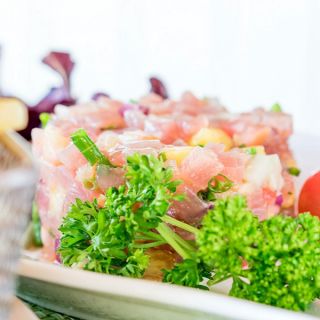 Traditional fare served at Le Mahina
The Best of Huahine by Land and Sea
As you go about enjoying your land-based stay, your charter boat is being positioned from its Raiatea base and provisioned for the sailing leg of your vacation. By the time you step aboard, you will hopefully have done an island tour and noted some spots well worth returning to by boat. Huahine's complex coastline of lagoons and inlets enclose an island group of 75 sq. km (Huahine has two main islands joined by a causeway). However the cruising grounds are limited to the lagoon on its western side, meaning the island cannot be conveniently circumnavigated at leisure like other Society Islands. This makes sailing in Huahine unique, and why we recommend some land-based time to go with the main objective of a sailing charter.  
More exposed parts are home to some of the best visitor experiences. A prime example that we recommend is snorkelling with the sharks, on the eastern side that is not suitable for larger craft. Here the sharks swim free in a pristine lagoon environment, and the only good way to have this special experience is on an organised excursion.
As a Pacific Island holiday destination, Huahine has it all, except the excessive trappings of commercialism. Just as everywhere else expect to pay for organised activities, but on Huahine with the significant benefit of local knowledge. Your guides bring you knowledge from the ages, introducing you to aspects of the island as they have always been, rather than as created solely for the tourist.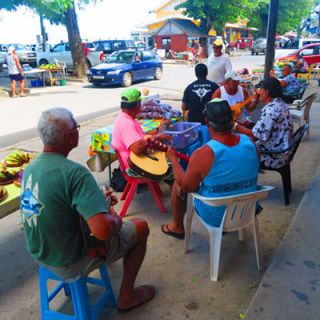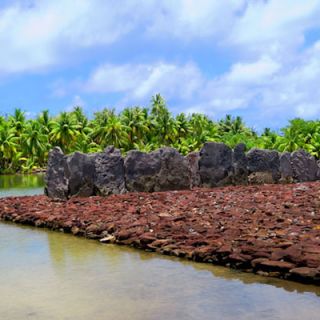 Ancient temple (marae) site, Maeva, Huahine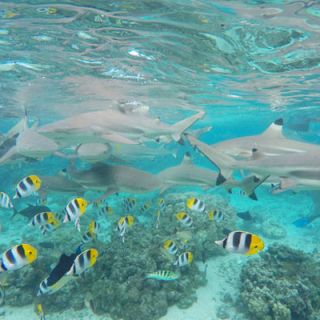 Swimming with the sharks excursion, Huahine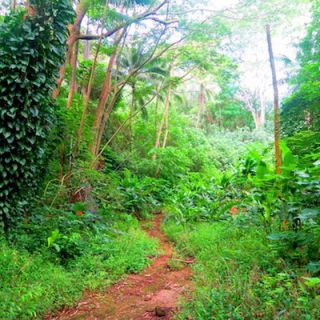 Beyond Huahine All the Way to Bora Bora
But you've come all this way to the Society islands and you must see more, Bora Bora likely being your ultimate destination. A one-way charter from Huahine to Bora Bora  produces the best of both worlds. You've had a real slice of island life, and now you're sailing the blue Pacific, stopping off along the way at the other main Society island destinations; Ra'iātea and Taha'a.
Once at Bora Bora you'll appreciate the majestic scenery much more in person than you once did at the movies or in the magazine. Do some more sailing in this deep and extensive lagoon, where even in this more developed space there are plenty of lovely places for peace and seclusion. End your charter and perhaps complete an extended stay at one of the over-water resorts rated as 'exceptional'.
Then fly directly back to Papeete; and as you reflect on what was an amazing charter sailing holiday, we venture to suggest the highlight will be your time in Huahine.