Charter Sailing in Greece: It's not just about the Islands
With 16,000 kilometers of coastline and more than 3,000 islands. Greece is the quintessential sailing holiday destination. It wasn't just democracy and the Olympics that began in Greece – charter sailing started there too. It's still the place where first-time charterers want to go sailing, the place seasoned sailors return to year after year. And there's plenty of it to go around.
Greece is traditionally split into five sailboat vacation destinations. But there's a big increase in coast-based sailing areas developing too. Here we will touch on some of these new and exciting Greek destinations base around the extensive marina network that now opens up much more of Greece accessible by sail. 
The Traditional Greek Island Sailing Regions
Five distinct island groups make up the best-known sailing regions of Greece. Each has its own characteristics and weather patterns, evidence if any was needed of just how many options there are in planning your Greek sailing adventure.
So with the exception of the Peloponnese peninsula, what this summary suggests is that Charter sailing in Greece is about island hopping as you experience the endless variety of beautiful beaches, entertainment hotspots, stunning natural features, delicious food and amazing scenery in reliably excellent Mediterranean weather.
But wait, there is much more to sailing holidays in Greece. Take away the Greek islands and there remains some 10,000 km of mainland coastline - more than the whole of Italy or Croatia can offer with their islands included. There are so many more fascinating parts of the Greek coastline and less-visited islands to explore. Charter companies are recognising that many visitors want to experience such out-of-the-way places, and bases are now opening up around the mainland. Especially on the Peloponnese and the coast north of the Sporades.
If you're on a second or third vacation in Greece, or even if it's your first and you're seeking somewhere to sail that avoids the crowds and commercialism of the more famous islands, here are some ideas for a Greek sailing holiday that's mainland rich and island light.
The Southern Peloponnese
Travel to the port city of Kalamata, home base to a small number (for now) of charter operators who will introduce you to Greece's southern mainland coast. Beautiful beaches, historical sites and fascinating villages await when you spend a week sailing this coast. Overnighting is in marinas, of which there are several to choose from at intervals around the coast west of Kalamata. Check out this video featuring the crewed Saona 47 'Alegria'.
Kalamata is a one-hour flight from Athens and there are international flight services during the summer months.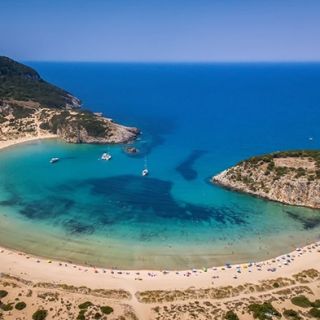 Voidokilia beach near Kalamata, Peloponnese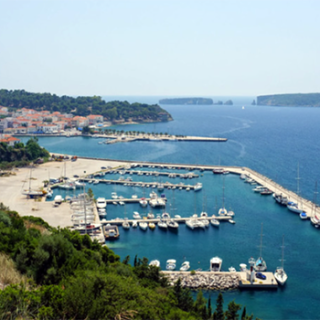 Pylos Marina, southern Pelopennese
The Northern Aegean
Three major charter base locations on the Greek mainland open up the top end of the Aegean for exploration by sailboat. There is so much to see in all directions, so for most this is too far to sail on a week-long or even a fortnight's Sporades charter.  So instead, fly to the major northern city of Thessaliniki – itself full of fascinating sites and experiences – and transfer to Avdiron, Kavala or Chalkidiki then set out on your northern Aegean costal expedition.
Although considered off the beaten track somewhat by international tourists, this region is well set up for sailing tourism and there is so much to see and do in this softer, greener part of Greece. The region is very well serviced by marina facilities all along the way, although like most of Greece there are few if any suitable overnight anchorages.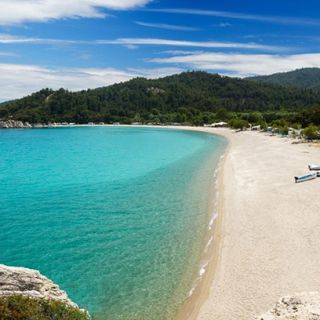 Armenistis beach, Sithonia, northern Aegean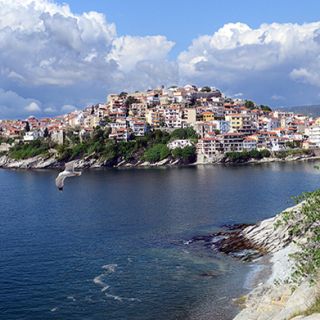 Kavala -Macedonia, northern Greece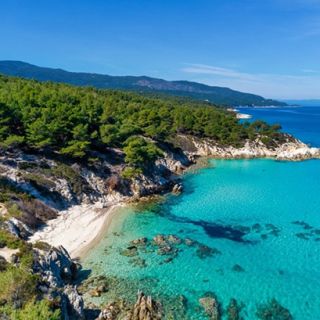 Kavourotrypes between Armenistis-and-Platanitsi-in-Chalkidiki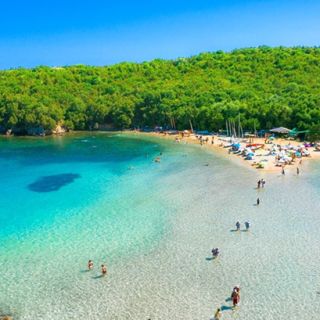 Bela-Vraka-on the west coast, so close to Corfu yet away from the crowds
Southern Peloponnese and Northern Adriatic are just two lesser-known Greek sailing regions you may wish to consider for your next sailing experience. There are so many more mainland places of interest. For instance just 8km from the southern tip of Corfu lies beautiful Bella Vraka Beach and its secluded neighbouring coves. So even when visiting the island groups, don't forget the nearby mainland highlights which you may find considerably less crowded!
The boat charter business in Greece continues to prosper, with new bases and marinas joining the network periodically. At Sail Connections we know Greece well. So if you're looking to go sailing there, whether doing the hot spots or seeking an out-of-the way idyll, get in touch and we'll point you in the right direction.