Lefkas to Athens: Boat Delivery on a Busman's Holiday
Recently I revisited the Ionian Islands, and a nice short break it was. In writing up that trip I felt compelled to follow up with a short piece on getting to the Ionian Sea overland from Athens. And getting back, which this time meant relocating a boat as part of the charter agreement.
Location-wise, the Ionian Islands are the exception to the Greek island rule. They lie off the west coast of Greece in the Ionian Sea, an offshoot of the Adriatic. All other popular Greek Island sailing destinations lie to the east, between mainland Greece and Turkey in the Aegean. That makes the travel arrangements a little more complicated than a simple ferry ride or direct sail out of Athens.
The Ionians' main international airport is on Corfu, from where you are in reach of the main attractions - Lefkas (Lefkada), Kefalonia, Ithaca, Meganisi and more. As these islands all lie to the south of the base, a two-week itinerary is essential out of Corfu to see the Ionians at a respectable pace.  A more central starting point is Lefkas, which makes a one-week itinerary feasible, although you would probably exclude Corfu. To get to Lefkas, many travellers arrive by charter flights that connect via the larger cities in Europe and regional flights also now land in Preveza, close to Lefkas.
Athens to the Ionian Sea by Bus
A third option is to catch a coach from Athens. This was always my preference when working in Greece, and it still is, all the more so now I've seen how much things have improved with EU investment. Athens bus station is not much improved on 30 years ago, and it's best to kill time elsewhere if you are early for your bus. The transport itself is perfectly comfortable for the trip.
The landscapes are interesting to gaze upon, knowing I would soon be sailing this coast this coast delivering a Sun Odyssey 42i from Lefkas to Athens via the Gulf of Corinth. Most striking however is the road itself. What was a winding two-lane country road is now a modern four-lane highway, the topography negotiated by extensive tunnels and the world's longest bridge of its type, the impressive Rio–Antirrio Bridge across the Gulf of Corinth.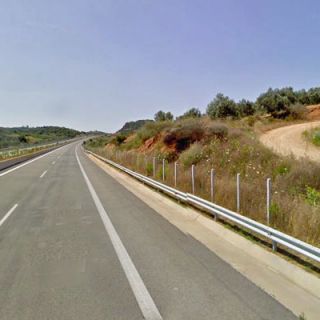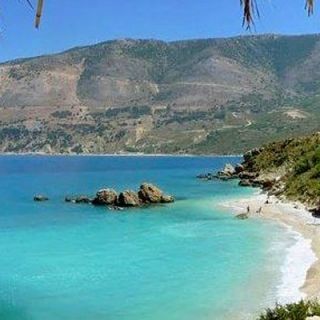 We arrived late at night at the base and were met and shown to our boat. To visit the nearby town of Nidri, which I was compelled to do, we took a taxi and had dinner there at one of its many restaurants. Nidri was a sleepy village town when I arrived in 1987 to run a charter base. Unsurprisingly it's now full of tourists. I would not consider it part of a charter itinerary - there are better options.
The next day was Sunday and there was no waiting to depart. A quick shop for stores and we were motoring out of the canal. Lefkas is actually an island, connected by a causeway to the mainland, with a channel dredged to allow boats to come and go.
The Ionians and Tourism: Updating my Impressions
Having spent a lot of time in this region, my visit provided the chance to update my impressions as a place to sail. The Ionian Sea is considered a sheltered sailing region. It does not get the Meltemi winds of the Aegean, and there is more annual rainfall, so the landscape is more wooded. It's the ideal sailing holiday spot, and for that reason was the first to be developed as a boat charter destination. It remains popular, and the sailing industry continues to develop. These days there are some 3000 boats based in the region during the season, on top of which are many more just visiting. While the area is big enough for everyone, some of the ports are small and it's best not to follow the crowd.
My conclusions about the Ionians this time round were somewhat mixed. On one hand the quaint little fishing villages such as Fiscardo and Kione struggle to cope with the influx. Their harbours are just not big enough to take the number of boats in the high season, yet they remain on most itineraries. To get right into the dock you need to be early and patient. An alternative is anchoring stern-to-shore at the entrance.
On the other hand, places that were not developed when I was there have since undergone major transformations. Vathy, Meganisi and Ithaca have great examples of development you would not know was new if I hadn't told you. At Vasiliki, in the south of Lefkas Island, a huge breakwater and marina development was underway (is finished now), to be supported by new tavernas and shops in time for the next season.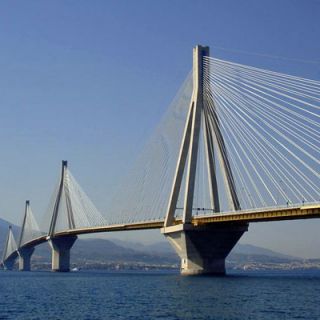 Rio-Antirrio Bridge over the Gulf of Corinth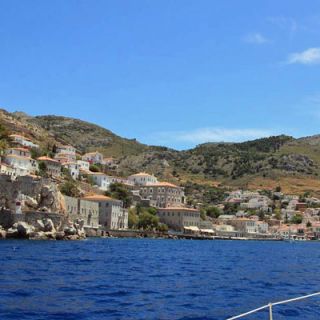 Sailing by another splendid coastal village
And then it has to be said, in a sailing region as generally benign as the Ionian Sea, you don't need to follow the pack into a port each night. Greece's best beaches are on the west of these islands and many are only accessible by boat. Find your own stretch of paradise, and just relax!
A Brief Stay and on to the Gulf of Corinth
On this occasion I was far from relaxed. We had just one week to take in the Ionians, Gulf of Corinth and sail on to the Saronic Gulf. To save time, we motored through, stopping at old haunts and popular spots just long enough to fill in the blanks in our understanding of these places, then at break of dawn headed east, en route to Athens.
The passage from Ithaca across to the Peloponnese is a big chunk of the trip. Most deliveries or charters will take in Patras, Greece's third largest city. Unmissable for classical history buffs, as are Olympia and many other nearby sites of antiquity but for this you need more time.
Making good time, we passed under the Rio-Antirrio bridge early afternoon and sailed along the northern shore of Greece to the small port of Nafpaktos. This is an amazing harbour with medieval fortress walls at its entrance, and though small, there was room to stop despite it being peak season. For us however, there was too much of the day left, so we carried on. Ancient towns dotted the coast as we sailed by, and so much looked worth exploring. We got a taste of what makes the Gulf of Corinth such a rich and rewarding place to explore.
Underrated as Greek Sailing Destinations Go
On dusk we stopped at another fascinating place, the historic town of Galaxidi. We just had to stop and take this in. The next morning we rented a car and headed up to Delphi, 20 minutes away. Arriving early before the tour buses, we greatly enjoyed the visitor experience and education, coming away in awe of how such wonders were ever built.
I love sailing holidays but all too often we don't take the time to stop and explore. I feel very privileged to be able to sail into a safe harbour, trek up to visit such a sacred site then return to my boat to further explore and ultimately travel back to where I call home. Worlds away from Delphi in every sense, but not worlds away from how these places have been travelled in ancient times. On a boat you really do feel like you are traveling in the footsteps of the past, and there's something quite appropriate about doing it this way. One day of exploring and we cast off, sailing in a stiff breeze making good time towards Corinth.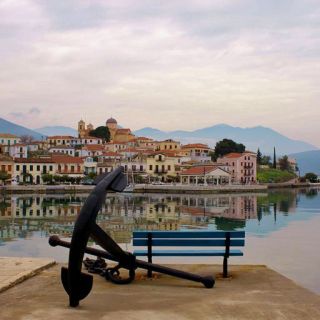 Fascinating Galaxidi town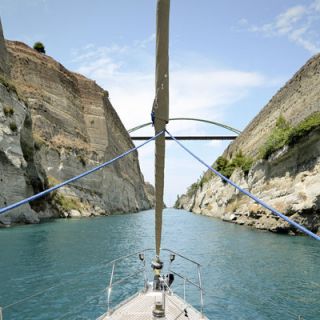 Sailing through the Corinth Canal
The Corinth Canal is one of those landmarks to surely would be on every mariner's bucket list. It's an awesome experience, passing through these towering sandstone walls towering either side. Before long you are through, paying pay your dues at the office and finding yourself in the Saronic Gulf.
The Gulf of Corinth is not so well known to charter sailors. You are unlikely to encounter another charter boat, unless it's on a one-way charter (which to do properly would need at least two weeks).  Long term cruisers are here, but not many local craft. This part of Greece was all the better for having so much of it to ourselves.
A Short Tour of the Saronic Gulf
I had some reservations about sailing in the Saronic Gulf in August, mid-season: surely being so close to Athens this region would be mayhem. I am pleased to say I was wrong. Possibly the lack of congestion was because we came in mid-week when most boats had already passed through on their set itinerary. Or maybe everyone had just sailed on down to the Cyclades to get knocked around by the mid-season Meltemi. I think the truth is, there are just so many islands, so many places to go, that the fleets disperse to find their own magical part of Greece.
Our first night in the Saronic was spent in the village of Korfos, on the north eastern coast of the Peloponnese. We entered the harbour to find the local taverna owner waving us in for dinner, and a most splendid dinner it was too. The quay never filled up and the bay that could have taken a couple of hundred boats was empty. For a minimal fee we plugged into the taverna's power and topped up with water.
Korfos reminded me of my Greece 30 years ago, and I highly recommend it. As we moved further around the shore to Poros, then back up towards the island of Aegina, there was nowhere I considered too busy to thoroughly enjoy. Every place we called at was worth the stop, visit and we just wanted to keep going. The boats in this region have space to spread out. Proof of that was clear to see on the last day of charter, when all converged on Athens from every direction.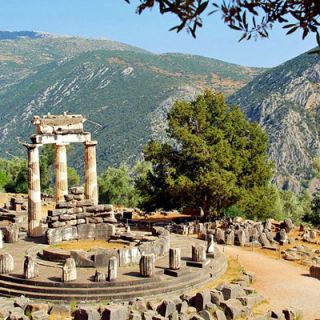 Delphi, home of the legendary oracle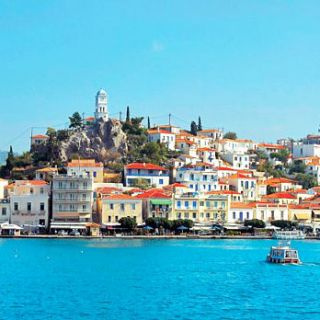 Approaching Poros in the Saronic GUlf
Greece Seen Through a Boat Charterer's Lens
Greece struck me as less orderly than Croatia, from where we had recently come but in a good way, far more relaxed. The ports were a fraction of the price, if costing anything at all.
The boat turnover was as well-organised as could be expected anywhere. I especially liked not having to find a fuel berth to top up. Instead the tanker backed down the marina to us. We were processed and all done within an hour of arriving, then walked to a nice Athens cafe for our last night on charter.
This trip was too ambitious to call a holiday. A one-way charter for purposes of getting an overview, gaining insight, and gathering knowledge of the region as it is today.
Visiting Greece offers a new perspective on time. The locals appear oblivious to its march, and it's good to get amongst them and relate at their pace. Their history is so vast and impossible to fully comprehend. The experience energised me in a way I can't explain in words, and pictures do not do it justice.
Give Greece more of your travel time and allow yourself to become part of it. You will be glad you did.