Chartering a Boat in Greece: The Ionian Islands
The Ionian Islands stretch some 250km down the western coast of Greece from Corfu to Zakynthos. A bareboat or skippered yacht charter here in the Ionian Sea presents untold opportunities for a sailing vacation second to none.
The Ionians form a chain of islands, making a two-week, one-way charter a popular option. There is a lot of sailing ground to cover, and much to see and do, as indicated by this Greek Island article from The Guardian. In summer it is common for charters to begin in Corfu (Kerkyra) and sail south on a mainly downwind course.
The weather is superb for sailing in the Ionian Sea, although you'll likely do a lot of motoring too. From May to September the breeze is generally steady from the northwest, while in spring and autumn, when temperatures are still mild, a gentle sou'wester usually blows. So there's an extended season with sailing charters continuing for nine months of the year.
Corfu Island is home to over 100,000 people. It is a well-established charter base with an international airport, and flights operate from many points in Europe. Corfu is on the frontier of Greece and evidence of past battles lay in various castle ruins. The island has a very cosmopolitan ambience, with plenty of tavernas and supply stores close to the town quay where you collect your boat.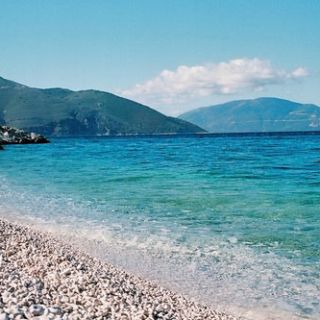 Azure, tranquil Ionian Sea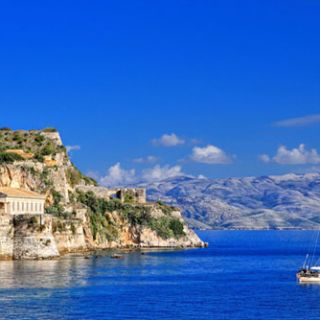 Corfu on an Ionians charter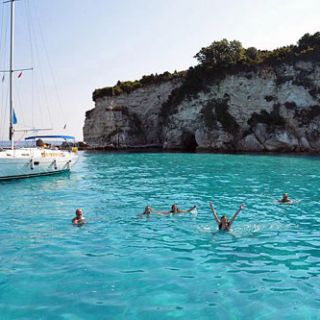 At Emerald Bay, Anti-Paxos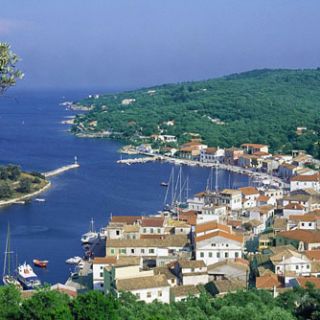 Next stop Paxos, formed in Greek mythology when Poseiden took a piece of Corfu with his trident, so he and his wife had a quiet place to live. Paxos and its neighbour Anti Paxos are famous for their fishing, olive groves and vineyards. There are some good anchorages, so take some time to explore these small islands and enjoy the local cuisine.
To the south close to the mainland is Lefkas, where a typical one-way, two-week charter can conveniently end. So you'll be tempted to sail past for now, on to Kefalonia, largest of the Ionian Islands. Kefalonia's northern point is about 90km southeast of Paxos, so a stopover on the west coast of Lefkas may tempt, especially after seeing pictures of its beautiful beaches. Take note however that the best Levkas anchorages are on the east coast, accessed from the north through a canal that separates it from the mainland.
Kefalonia is the largest of the Ionian Islands, rich in history both ancient and recent. The island has undergone a lot of development, but its size and rugged landscape mean there's plenty to explore ashore. Tucked alongside Kefalonia's northeastern shore is Ithaca, the hero's home in Homer's Odyssey and a small Ionian island that really packs a lot in. Stop by in quaint Vathy and hire a scooter to explore this interesting place from ashore.
Southernmost of the Ionian Islands is Zakynthos. But for most charterers, Kefalonia is the limit in the time available, from where it's short hop to complete your Ionian Islands charter in Lefkas. Perhaps if your schedule allows, you can detour towards the Gulf of Patras and sail some of the mainland coast. But make sure there's time to stop at Meganisi, still relatively undeveloped where many beaches are only accessible by boat.
From Lefkas it's a five-hour coach ride back to Athens, a worthwhile experience in itself. As you travel along the Peloponnese coast you have great views of the countryside, and will see the amazing Corinth Canal.
Note that one-way yacht charters as described here are generally not available in the peak demand period of July and August. The early summer months of May and June are ideal for chartering a boat, before the hottest weather arrives.  September is also a good time to visit, when the European school holidays are over and the crowds have gone home. 
While our focus is on a vacation of two weeks, the one-week charter, beginning and ending at the same port, is popular here too. There are numerous itinerary options, including using mainland bases such as Palairos and Vounaki to shorten the length of voyage. Whatever your final itinerary decision, you are sure to have a wonderful charter yacht experience on the Ionian Sea.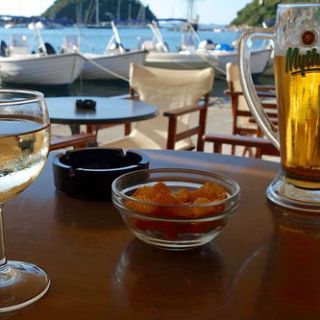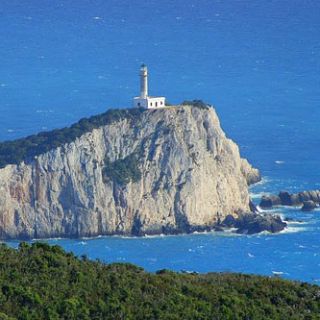 Lefkas cliffs & lighthouse
Mykonos, the island of the winds and battleground of Zeus and the Titans, is a delight. With its whitewashed houses and quaint market streets, Mykonos is home to so many of those iconic images of the Greek Islands. There's plenty of nightlife here too, and it's a great place to enjoy the wine and food of Greece. Take breakfast ashore, and try a traditional Mykonos kopanisti, made using the exquisite Cyclades cheese.
So you have a week, or better still a fortnight, to sail the Cyclades, and we've only touched on two of its 220 islands. An illustration of just what's in store - a veritable feast of choices for sailing these waters. Clearly, to make the most of all the Cyclades has to offer we would be happy to discuss your plans and offer our advice.