Look What's Been Happening at Sail Connections
Welcome back to the world of yacht charters. People are once more making plans for future adventures, some being free to return to sailing vacations already. At Sail Connections we are certainly seeing an upswing in enquiries and an increasing flow of new charter bookings.
Before it becomes business as usual once more, here's what the team's been up to while we've been in a locked-down world.
When Covid struck and the sailing world all but shut down, our Sales consultant Caroline quickly found work in another industry. We stay in touch and Caroline hopes to return to selling sailing holidays in the future. 
Our Administrator Sue stayed on in a reduced capacity, her main task helping our charter clients work through the chaos. 
For me, it was firstly a case of acting quickly to ensure the ongoing viability of Sail Connections, Overheads were reduced and funding sought. That meant reluctantly selling my boat to ensure our survival. 
Faced with time on my hands, no boat to go sailing and with some cash in the bank, I came to a conclusion: build myself another boat. I'd done it before with help, and I knew the cost of constructing hull, decks and interior is mostly in the labour. That was a resource I was about to have in abundance, which concerned me - I need to stay busy!
So I talked to designer Greg Elliot, whose boats I've built a couple of times before. Greg came up with an 11.5m design to my specific brief: a construction simple enough to build but traditional in principle. I have become increasingly critical of  methods used with modern boats, built to a price rather than a standard.
The design is along the lines of the Tourer range of Elliot Yachts: smaller than but not too dissimilar to the Elliot 1350 I had recently sold.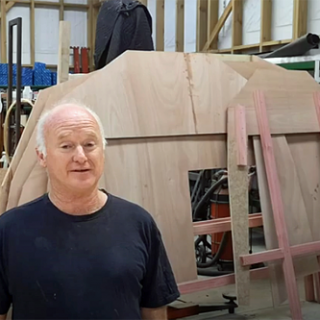 Rob's Boat Build: the beginnings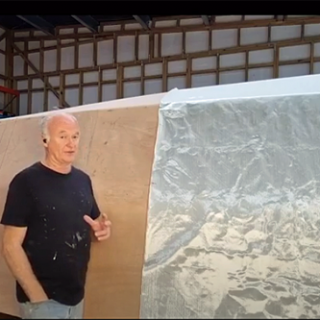 Laying glass fibre over the plywood.
Building this boat to a budget and starting during lockdown helped form a singular focus: carry out each and every task on my own (within reason). It may be my age and background, but I have this urge to build a contemporary design using quality construction methods and finished to a high standard myself. In truth it's a drive greater than the desire to go sailing. After all, I can always charter a boat for that. 
Fast forward to today and I have a project that's well underway. I really do not care how long the job takes. It's something in my life I will chip away at, my form of recreation. 
In launching this sizeable lone endeavour I decided to document the project. So from the start I've been keeping a video diary, now available on YouTube. So far I've published instalments up to the first milestone. Progress is well advanced and I will regularly add videos to steadily bring the channel up to date.
The Rob's Boat Build YouTube channel is worth a look, especially the milestones. The more technical videos will interest anyone who wants to tackle a similar project. There's something here whether you have a boat-building dream, or are a casual observer who may just enjoy watching some mad guy who went bush to build a boat by himself. 
I hope you'll join in and take a look at what Rob's Boat Build is all about. Help me meet my target of 100 subscribers. Its free to subscribe, and do please share. There's much more to come.  For this passionate DIYer, knowing I have interested viewers will give the project more wind in its sails.
Happily, Sail Connections is increasingly demanding attention, a welcome break from laying down glass fibre. For me a happy mix: working with my hands to create something fine for family pleasure locally, while sharing my passion in helping you all go sailing in more exotic places.
Robert Cross
June 2021