The Sun Loft 47 Monocat: a Game Changer for Yacht Chartering
A peak season cabin-share sailing holiday with skipper in glorious Croatia in August. Chartering a 2020-model 47 foot sailboat for just 175€ per person per day! This is the reality aboard the Sun Loft Monocat 47: a whole new concept in group charter with friends or extended family. The Sun Loft makes your sailing holiday more affordable than ever before, and more practical in terms of daily life aboard.
Innovation in Using Boat Space
Here at the charter desk, it's no surprise to us that leading production boat company Jeanneau has called their clever new design a "monocat". For years I have maintained that increasing monohull beams are shrinking the advantages of a catamaran over a monohull: for a couple of reasons. 
A wider beam makes any boat less inclined to heel over and gives it more stability at anchor. Beam also determines space relative to boat length, both inside and out. All good stuff for charter! Room to move is critical to an enjoyable charter, and like everything it's all a matter of finding the right balance. Beamier boats can sleep more people while still leaving places to socialise and relax aboard. The greater the number of bodies, the more important that is!
The Monocat 47 has taken people space a step - a giant leap even - further. It is designed and built for charter, specifically the cabin-share market, whereby each guest pays an equal share for the charter for equal privacy and comfort.
Hop on, Hop off for the Fun Ashore
The Sun Loft 47 delivers catamaran space in a monohull shape; a feature that comes into play in busy ports. Easy access to shore is important on group sailing holidays. It helps keep everyone happy! Where monohulls have advantage over catamarans is in finding docking space at busy quays and marinas. That's especially true in the Mediterranean where berthing space close to entertainment is always at a premium. An arriving monohull can find a spot to squeeze into when a catamaran is shut out of town.
Let's face it, with ten people plus on board, the best itinerary you can plan makes it easy to tie onto shore so everyone can come and go as they please. Whether you're on a cat or a monohull, the dinghy is only so big and there's only the one: it takes time to ferry people and someone has to do it.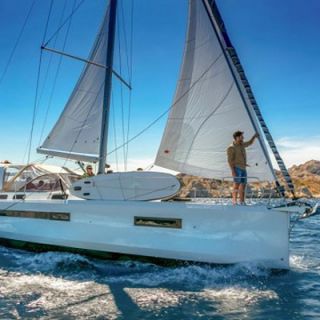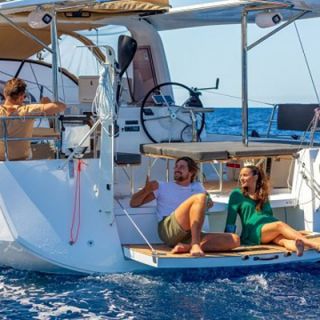 The Perils of Booking by the Cabin
The Sun Loft Monocat 47 design directly responds to a growing trend in sailing holiday travel. That's sale-by-the-cabin, an idea that's being exploited by big travel companies. They pack as many people under the age of 30 into a charter boat with skipper. They work on the assumption that this type of customer just wants to have fun with others also looking for a good time, and will put up with close quarters without care for comfort.
Oh how fraught with risk that can be! Over time I've met up with many flotillas operating under this structure, and observed more often than not a level of resounding discontent. Once reality bites, there's objection to having paid so much money only to be treated like cattle on the way to the works. On a recent trip to Greece, I witnessed boat-loads of young people walking off en masse at Alimos Marina, refusing to spend their last night on board.
It's a tough call putting complete strangers together on a boat of the type and size used for charter, and expecting them to happily cohabitate with a boat-load of strangers in a space that's just about as small as their wardrobe at home!
What Makes the Monocat 47 Different 
Below deck on this boat, every bit of space is dedicated to private accommodation just as in the hulls of a catamaran. Outside, the cockpit is much more than the name suggests. It extends forward of amidships, with a big space right at the back for everyone, crew included, to socialise and relax in comfort. In front of that is the galley and food preparation area, all outside and on the same level.
The helm station is on the cabin bulkhead as on most cats. The whole outside living space is protected by an ingenious bimini arrangement.
With the unique layout of the Monocat 47, there's a big social space in which to dine and hang out while soaking up the Mediterranean pleasures, with no separating the workers from the passengers while meals are being prepared. And everyone has a comfortable private space to retire to when needed. It's as simple as that!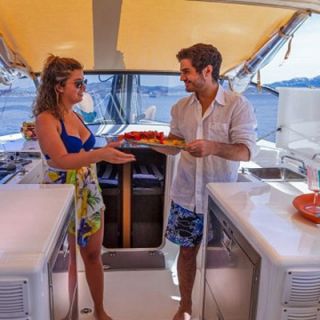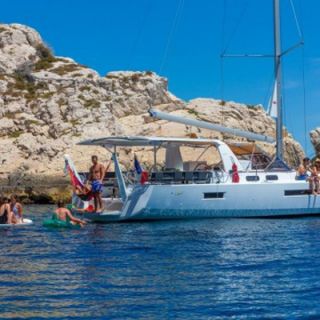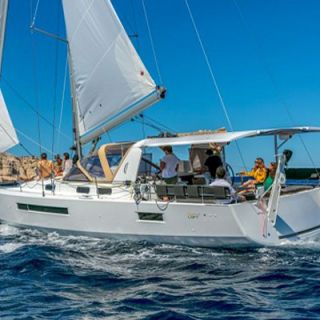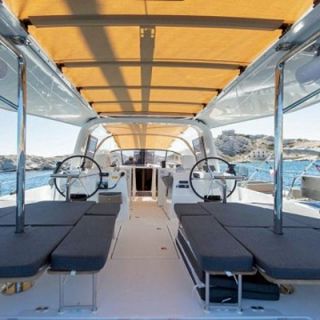 Cost Benefits when you Charter the Whole Boat
At Sail Connections our focus is complete boat, not by-the-cabin charter. Sure, we see the appeal to young people of hanging out in a flotilla of like-minded people. But partying doesn't fit into everyone's idea of the perfect sailing holiday. And even when it does, consider the advantages of spending leisure time with people you already know.
Get together a group of friends or family in sufficient numbers and charter the whole boat; that's where the savings come in. It's easy to charter, with or without skipper, directly through a broker, and avoid the high profit structure of the by-the-cabin model. Eliminate the risk of sharing your boating holiday confined with people who are strangers, at least to begin with. Save that for land-based activities where there's more freedom to choose to stay or get away.
So what's the cost of chartering a brand new Sun Loft Monocat 47 in Croatia, peak season? With skipper the current charter cost is 8463€, including all insurance and mandatory extras. There is ample room for 10 guests aboard, so that's just 175€ per person per day! For this you get to enjoy the Mediterranean as only a sailing holiday can provide, going places you've read about and doing what you want to do: at your pace, in comfort and having a ball.
The Monocat 47 is also available in the Caribbean, where due to a longer season it costs even less to charter. There a high-season sailing holiday with skipper works out at just 152€ per day per person for a seven day charter.
Bareboat Charter with Skipper Optional
Of course with the required sailboat knowledge and experience you don't have to hire a skipper, and that saves more again. After all, this is bareboat sailing. But with 10 people chipping in it makes sense to have a local guide, and a designated driver!
Bareboat sailing aboard a Sun Loft Monocat 47 is not for everyone. For sailing purists the layout will take a bit of getting used to, as will the boat's handling and performance. But it's not built for speed under sail and most of the time the ample 80hp Yanmar is doing the work. This is a special-purpose charter craft that can go anywhere a conventional charter boat of similar size can go. We're fascinated by the concept, and welcome it to the fleet. 
Prices are current September 2019 and subject to change.