Croatian Bareboat Charter: What is the Cost of a Marina Stay?
On a well-planned sailing holiday in popular Croatia, most of your costs will be known and covered up front. While sailing there are variables of course - food, beverages and fuel, plus charges for overnight berths should you choose to stay in a marina. To help with budgeting, here's a summary of what to expect to pay for your Croatian marinas.


Croatia is a hot bareboat charter destination, and along the Adriatic coast every major town is set up for you to stay over. Of course there are numerous quiet anchorages too if that's what you seek. But when it's time for shopping or a night ashore, you'll be looking for a well-equipped, secure and convenient mooring. Croatian marinas provide world-class facilities, and understandably that comes at a price. So what should you expect to pay for an overnight marina stop during your sailing holiday in Croatia? .
Overnighting your boat in Croatia can be more expensive than other places, due to the country's popularity as a sailing destination. But you have control over where you stay and therefore how much you have to pay. After all, your charter boat is your hotel, as well as your transport,. and quiet bays abound along the Croatian coast; places where you can anchor at no charge.
But when you do decide to stay in harbour, the various fees can add up. So here are some Croatian marina facts, prices indicative and subject to change. They exclude any charges levied by the Croatian Government, paid as part of your boat charter fee. We have disregarded daily charges in the winter season, which can attract significant discounts.
Croatian Berthage fees
Marina berth prices in Croatia, as elsewhere, are typically based on monohull overall length. Catamarans incur a surcharge of 70%.
Prices start at around €50 for an 11m monohull, stepping up to €77-plus for 18m. Generally in Croatia, the further south the marina, the more expensive, particularly for larger boats. At Split, one of the most popular charter destinations in Croatia, the cost of berthing a Beneteau Oceanis 45 (16.8m) is €99 per day. Our largest catamaran available in that location, the Lagoon 52, would incur a charge of €153 there. Prices in equally-popular Dubrovnic are similar to Split, while up in Istia, Pula marinas start at €45 per night for an 11m monohull.
These prices are before a peak season surcharge that applies in July and August - another 5% to 20%, depending on location.
Berthage fees include the use of onshore washroom and shower facilities, and some onshore storage. The daily charge is generally to 2.00pm on the day after arrival, except if arriving between midnight and 7.00am, in which case it applies to 2.00pm the same day.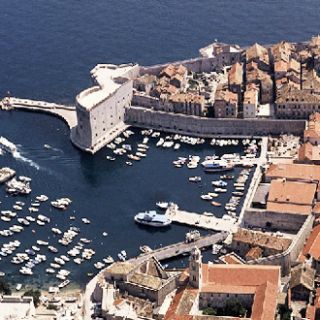 Convenient berthage right in Dubrovnic Old Town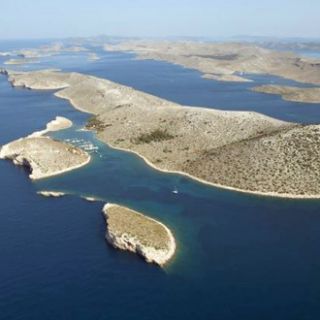 Sailing Croatia, one is never far from a marina. There's one here, at Piskera, Kornati
Water Provisioning
At most Croatian marinas, water tanks can be topped up as part of the berthage cost to a limit of only 200 litres. Larger quanties of water will incur a fee. Some locations restrict water use even more, and it would pay to check for possible restrictions on arrival.
Power Charges
If needed, power supply also varies by boat size. Prices range from €5 per day for smaller charter boats up to €16 for the largest bareboats available in Croatia, such as the Beneteau Oceanis 45 and Jeanneau 57.
From Umag on the Slovenian border to Dubrovnic in the south, you are never far from a modern, well-managed marina, the cost of which needs to be considered when planning your charter.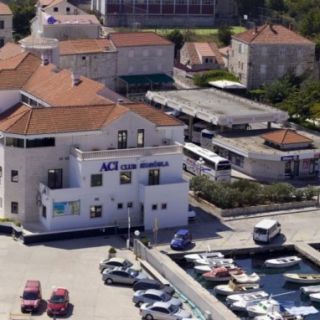 Croatian marinas have excellent facilities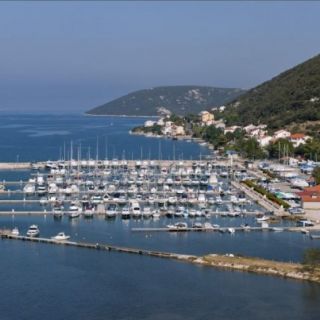 Rab marina, another of many on the numerous islands of Croatia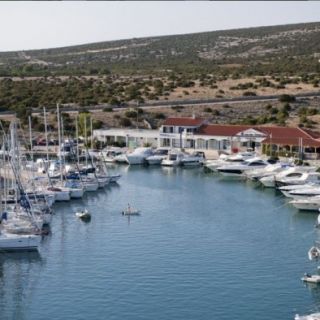 Simuni, one of the smaller Croatian marinas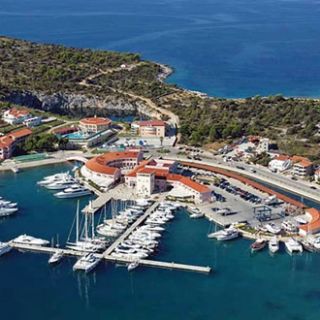 Marina Frapa, on the mainland near Split
Talk to the experts about your Croatian sailing options
The good news about sailing in Croatian waters, as with other popular destinations, is there are always alternatives to berthing downtown in popular tourist destinations. Talk to our team about your sailing plan. We can help you minimise these add-ons, while still getting all the great experiences that come with spending time ashore on your Croatian bareboat or skippered charter.