Sailing in Croatia: the Dalmatian Coast
In talking about bareboat sailing vacations in Croatia, we generally look at excursions that return to the port of departure. A charter out from Spit provides for the ideal one week itinerary sailing through the vibrant northern Dalmatia islands.This coastline and its islands also lend themselves perfectly to one-way charters, for those with two weeks to enjoy.
Warm and dry summers and mild winters characterise Dalmatia. Average temperatures during the yacht charter season range between about 72° (22°C) and 84° (29°C), and the wind is a prevailing northerly. 
Your voyage starts from Split or one of the charming marinas located close by. Split is Croatia's second largest city and the main transport hub for trade and commerce conducted on the country's "one thousand islands". From here it is just a short sail to some of Croatia's best known islands – Brac (pop. 14,000), Hvar (11.000), and Korcula (16,000). Each of these destinations is an attraction in its own right, with its own local flavour. One thing their people all have in common though is the welcome they give to visitors. And in contrast to the larger islands, quieter places of natural beauty like Lastovo and Vis are just a short sail away.
These islands of southern Croatia stretch for 100 miles along the coast, all the way to the city of Dubrovnic. Along your course you will pass by many some interesting mainland settlements as well, including the "Makarska Riviera", one of Croatia's most popular tourist destinations.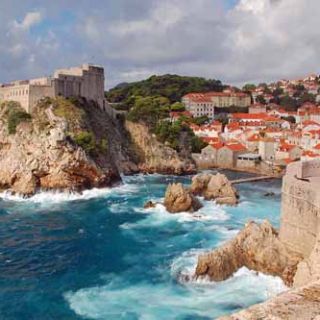 Dramatic, historic Dubrovnik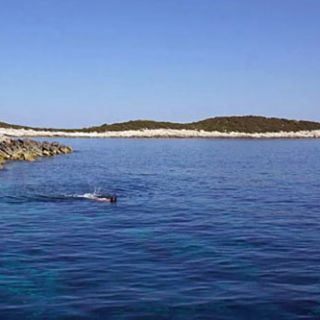 Enjoying the calm, clear Croatian water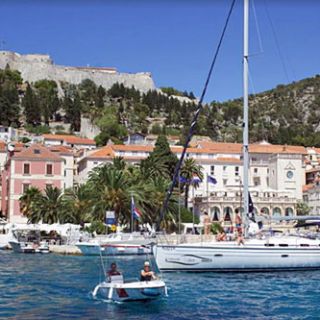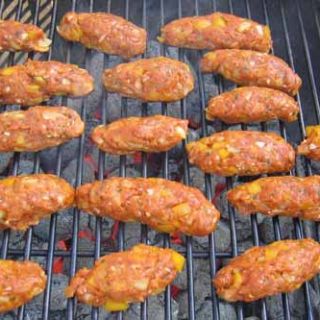 Around every corner is another cove, beach or hamlet enticing you to pull in, drop anchor and go ashore. This is a holiday cruise about fossicking around, exploring the local settlements, enjoying their culture and their food, and learning something about the region's tumultuous history.
Speaking of food, a choice of restaurants awaits in the smallest village, and there's always a bar nearby with the local beer flowing. Colourful markets provide an abundance of fresh fruits, fish, meat and vegetables, and stocking your boat is cheap, interesting and easy. Local specialities include raznijici (pork kebab) and cevapici, which is a delicious spicy meatball dish. Pag Island cheese and smoked prsuit ham are popular starters and can all be washed down with some fine local wines.
As elsewhere in Croatia there are plenty of natural features to enjoy, but for most the best memories are of meeting the people and enjoying their hospitality. That is what cruising in Croatia is all about.
Finally, your one-way yacht charter brings you into Dubrovnic, a bustling center of 42,000 people. This is a fascinating place with its historic walls and magnificent architecture, where it is well worth lingering a while at the end of your sailboat voyage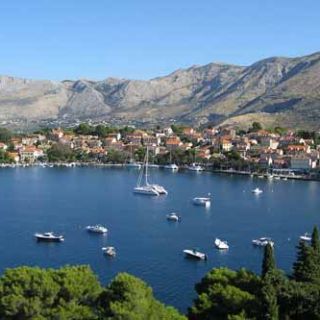 Peaceful anchorage, southern Croatia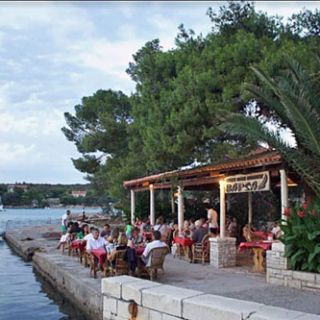 Croatia is a popular charter destination, with countless operators and new boats coming into the market all the time. It is a well-organised place to sail, with considerable recent investment in marinas. You can use these facilities just about everywhere along your route if you are willing to pay the fees and forgo some delightfully remote and natural anchorages.
The three regions of Croatia are quite distinct, and it's worth doing some careful research to ensure you get a package that fits your needs.The geography is such that it's easy to undertake longer itineraries than those mentioned here. For instance your one-way southward voyage may start at Murter, in which case you will also cover Sibenik and its own small group of offshore islands. The point is, the choices are just about endless, so take advantage of our contacts, knowledge and experience, and enjoy a sailing holiday to remember for a lifetime.