A Sailing Holiday in Croatia
In August 2017 Robert undertook what so many clients have told him is the sailing holiday of a lifetime. He and partner Sharon took possession of their chartered Dufour 350 in Dubrovnik and set sail to explore as much of coastal Croatia and its islands as they could in the time available.
Dubrovnik - Split Return on a 2-week Bareboat Charter
Of the many sailing destinations easily accessible these days, Croatia has proven to be the most enduring, its amenities forever expanding and its attractions increasing in popularity. The Adriatic offers the best of European sailing: clear, deep water with no tides, a coastline dotted with ancient ports and islands too numerous to count running the length of the country. The summer weather is perfect for living aboard – not too hot with a water temperature always inviting a refreshing dip. If shelter is needed there are many fine places to hide, and at every town and village you find charming stores and inviting restaurants, all reasonably priced and selling tasty local food.
We chose to sail during the holiday season – early August - scheduling two weeks from Dubrovnik north as far as Split and return.
An impression I had before this trip, entrenched by years of dealing with the local charter market and getting client feedback, was just how well Croatia copes with the influx of visitors in peak season. And it was an impression confirmed by experience: the way operators turn big fleets around on a Saturday, fixing what's broken, replacing what's missing, cleaning inside and out, refuelling, and preparing boats for the next charter to board the same afternoon. All done with smooth efficiency, charterers made to feel welcome aboard from the moment of arrival until farewelled with a genuine hope to meet again. 
A Vibrant Sailing Industry with Space for all to Enjoy
What's perhaps more remarkable is the way the outlying destinations deal with their daily influx. Late in the day, boats from all directions converge. Clearly in predictable fashion, because while operators have a known number of boats to deal with, the marinas and on-shore services on the scattered island and mainland stopovers are also geared to cope. I put this down to the structured approach of Croatian authorities, who with wider EU support no doubt, have taken sailing tourism very seriously and fostered by providing the infrastructure required. They can be a bit pedantic with boat paper formalities, and everything needs to be as it should be. But it's a system with which everyone appears to conform, and so it simply works.
As well as its innumerable natural anchorages, Croatia is blessed with a string of modern marinas operated by Adriatic Croatia International Club (ACI), a majority state-owned nautical tourism company.
All this modern development has happened, all this business conducted, without adverse impact on the natural beauty of the Adriatic. Care has been taken to fit the facilities to the environment. Some marinas feel downright natural, so well nestled into the landscape as they are. Contrasting with so many massive marina developments elsewhere in the Mediterranean, here with deep bays lapping upon sloping foreshores, reclamation has not been needed. Walking ashore from the unobtrusive piers of these well-designed amenities, gravel paths lead to marina offices shaded among the trees.
Elsewhere, the traditional concrete quay remains for tying up, with restaurants lined up across the street. In towns and villages where fishing boats unloaded their catches for millennia, now charter boat tourists overnight and support the local economy.
But more often than not there is no need to use docking facilities. Just about everywhere in Croatia, there's a convenient spot to lower the anchor. Entering some small ports, you may notice moorings provided for customers by the restaurants ashore. While these options may seem random, there is always room for one more boat. If the marina is full or you need to pull in short of where you had planned to be for the night, don't be concerned. There is always safe harbour to be found.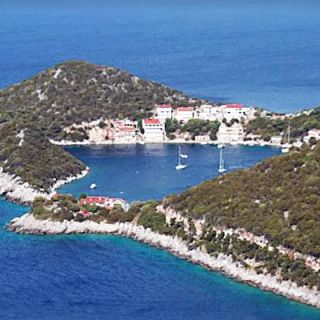 Sailing Croatia: beautiful bays and room to move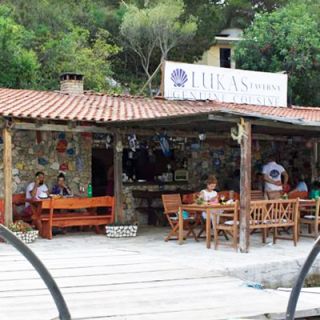 Good Planning Goes a Long Way
In planning the trip I knew we would face the challenge of being spoilt for choice. How to incorporate the best spots that every tourist naturally wants to see, without missing the chance to explore those special places we would only discover once we got there. Giving ourselves two weeks to see the Dalmatian islands and sailing at a steady but enjoyable pace, we quickly learned that to see everything would need more time than what was available. But we were determined to cover the ground, and that meant seeing but not always truly experiencing or appreciating what was before us. A common travel pitfall, one demonstrated only too clearly with this trip.  
This leads to another assumption about chartering in Croatia: that a one-way voyage between Split and Dubrovnik is the best sailing holiday structure. It's a belief that for us anyway, this trip served to debunk.
Given the geography here, a one-way journey during a restricted time period makes for a narrow course that means you miss so much, so near yet so far, so frustrating as you must sail on by. A comprehensive exploration at holiday pace requires a course that has you constantly back tracking around the islands, zig zagging across the eastern Adriatic as you work your way from coast to outer islands then back again repeatedly while heading south. Not so much a one-way journey as a dizzying spiral route that bounces you all over the map.
That's how many larger-group package cruises are designed, holiday voyages that take in Hvar, Korcula and a few other popular tourist stops along the way. The programme works well for those vessels, as they ply a routine course south from Split then repeat northwards from Dubrovnik. But on a charter with limited time, such a programme becomes little more than a delivery trip. The whole idea of the bareboat sailing holiday is the freedom that enables you to go where you want to; to explore what looks interesting, then sail on to where the mood takes you next. 
 If your charter is of one week's duration, you really cannot do the whole area between Split and Dubrovnik justice. Your best plan is a return circle route out of either base, enjoying the northern or southern Dalamatian islands, whichever is closer.  They are all fascinating, and putting quality time spent ashore over quantity locations ticked off will not disappoint.
In our case a two-week charter gave us the time to first enjoy a reasonably straight-line northward sail between coast and inner islands, shifting west to cover the outer islands on our return. It worked well as we realised we would have to sail by a place we'd researched for exploration, knowing we could call on our way back. For instance, arriving at Korcula late on day three of our charter, while still getting used to our boat and local practices, we found the bay very busy and marina full. Early in the charter and with so much ahead of us, it was an easy decision to sail on, knowing we could easily call on the way back. Which we did. By then we knew what we wanted to get out of this stop, and we were much more familiar with our boat too. We found the best spot we could and had a great time on the island.
 A Mention of Montenegro
But before we head up the coast of Croatia, let me touch quickly on Croatia's southern Balkan neighbour. These days, close to half the boats that leave the huge ACI marina in Dubrovnik in fact head south for Montenegro, a popular sailing destination in its own right.
Our plan had been to fit Montenegro in at the end of our charter, but on the journey we decided we didn't have time to do it justice. Montenegro's non-EU status means border control, and the need to clear customs at the port of Croatian port of Cavtat going both ways, and check in and out of Montenegro as well. That's a big call when there is so much of Croatia to see. Our plan is to return to Dubrovnik and do a week southwards including Montenegro.
So to our sailing holiday out of Dubrovnik aboard a  Dufour 350, which would prove ideal for the two of us on charter. My intention here is not to produce an itinerary, which for many practical reasons are not a good idea when sailing bareboat. It is however important to do the research, and have a fair idea of what's on offer up ahead, so you can take in what appeals when the time comes. If you feel pre-determination is important for planning purposes, think of your schedule as an anti-itinerary. Break away from the pack when you can, and go your own way. That is very doable over two weeks, while most of the boats around you are working to a one week plan. 
Dubrovnik
There is not a charter boat marina in old town Dubrovnik; the ACI Marina is situated on an inlet 10km to the north in Komolac. To visit the old town, take a taxi from Kolomac and explore the popular destination. The quaint ACI marina is very nice with adequate restaurants and stores for the holiday maker's needs. The offices are in a somewhat spectacular old stately home of the once nouveau riche. It foretells the story of how political unrest and the conflicts of ideologies worked though this region during the 20th century to create a state that today welcomes outsiders.
ACI Dubrovnik as this marina is called operates at capacity. Further north ACI Slano is a new development from which we expect many more charters to commence in future. For the sake of the extra 20 minutes by taxi, Slano places you around two hours northwards, and apart from a sailing perspective you will have not missed much. Slano is clean and lovely, well worth a stopover if you do start in ACI Dubrovnik.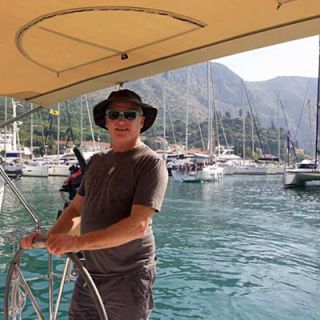 Leaving the marina at Kolomac, Dubrovnik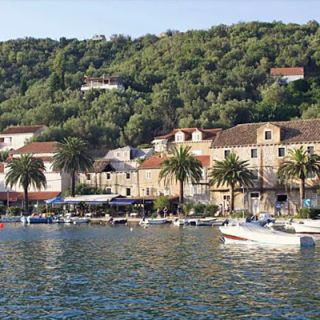 Stopover on the island of Sipan
Ston
Heading out and returning, it is convenient to stop at either Sipanska Luka on the island of Sipan or in the long narrow harbour that takes you to Ston, situated on a narrow mainland isthmus at the southern end of the Peijesac peninsula. Ston's wall was regularly put to use in defence of the town from raiders seeking to plunder its main natural resource, salt.
The expansive salt fields at the harbour's head signal a waterway that is shallow and marsh-like. The river running into it forms a channel adequate for navigation to a jetty five miles out of town, but unless you are on a mission to see every Game of Thrones set, I suggest you can give Ston a miss. We hired a taxi from Kobas, a village on a bay halfway up the peninsular heading for Ston, It was too hot to walk the wall but I did buy a bag of salt, which upon opening later was just like any other bag of salt.
Kobas
We discovered this delightful place on our way back to Dubrovnik. The village is in a lovely rustic setting of family-run businesses, a place that comes across as demonstrating Croatian life as it should be. We parked our boat up to the quay and dined just metres away in a quaint little restaurant with excellent wine and food.
Sipanska Luka
Situated closer to Dubrovnik on the island of Sipan, Sipanska Luka is probably your best first-night stop. As a first impression we thought it was fantastic, although in light of what was to come it was about average. There are some lovely spots on the way in to to stop for a swim, a walk around the old abandoned villas, or a contrasting visit to one of the local resorts. The island is wooded and the town itself is pretty, with restaurants around its fringe. If you miss out on a quay space, there are moorings and further out plenty of room to anchor.
We learned the better restaurants in Sipanska Luka require bookings. We found quite a variance in dining quality and value during our journey, and some TripAdvisor research is recommended. Here a booking was essential. We found the proprietors had no interest in turning the tables over, and even though some dinners were close to finishing we were told, "we're full". That was not our experience everywhere, but it was a reminder that we were in a different culture and "when in Rome …" 
Peljesac Peninsula
Heading northwards you have the choice of crossing over to Mljet Island or working your way up the mainland coast. The luxury of a round trip allowed us to pass Mljet by, planning to visit on the return. We headed for Korcula town, 35 miles from Sipan Island, leaving early so we had time to visit coastal towns along the way.
Zuljana
Situated about half way along the peninsular is a pretty little bay with Zuljana at its head. There is limited space on the town quay but room for anchoring out among the holidaymakers' small craft. There was plenty space and depth for our keel boat.
The water here was so clear and inviting that we chose to swim ashore with a dry bag rather than lift the dinghy off the deck. It turned out that in fact our dinghy had very little use (apart from running stern lines) during the two weeks, with the outboard used just the once.
 Ashore, the crowd was a mix of holidaying locals and Europeans all enjoying their seaside relaxation. The shops were of a high quality and with limited cash in the dry bag Sharon swore she would need to return. She still talks of that mythical summer dress she was unable to purchase because I didn't put the credit card in the bag.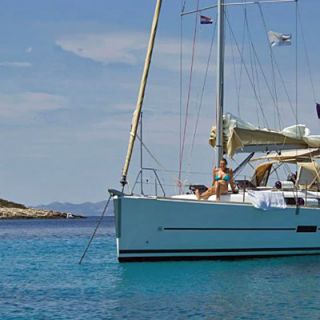 Our Dufour 350 on a lunch stop - Korcula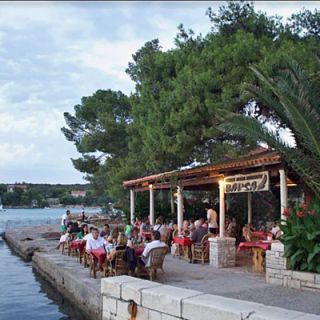 Korcula
As mentioned earlier, we found ourselves at Korcula sailing both north and south. 
Heading north our visit was something of an experience. We arrived at Korcula late afternoon to what is the busiest marina in Croatia. It was a Monday, typically the second full day of charter for all who depart from Dubrovnik, 45 miles to the south. So there were a lot of boats converging, their crews all vying for a spot in the marina. Overheard VHF conversations indicated nothing but stress at both ends. Online booking systems such as mysea.com apparently only work in theory at such a point in time!
If you are set on a marina berth, use the VHF like everyone else, and if told the marina is full then offer the person at the other end some extra for his trouble. Apparently it works, pity the skipper who most likely had booked the berth in advance online. This behaviour is under review but until habits of old are purged from the system, online bookings don't seem to count for much.
Not caring about joining the circus of boats trying to park in the marina, we anchored in a good spot at the head of the bay close to town. Then thinking this was all too easy, that maybe there were rules and we were not supposed to be there, we became anxious about our situation and got out of there and headed for Laviste. It turned out there were no such rules! 
By the time we returned to Korcula heading south, we had been on charter in Croatia for 11 days. It's fair to say that by then I had become a seasoned Adriatic mariner and dab hand at finding a good spot for the night. With our previous experience fresh in mind, we steered clear of ACI Korcula, knowing there were other options:
1.  Park in the not-so-busy Lumbarda marina and catch a taxi to Korcula town. Lumbarda is a seaside resort with lots of activities and partying 20-somethings, not our first pick.
2.  Anchor anywhere in the region and catch a water taxi. There are clusters of pretty little islands where we could choose to anchor with other boats or find a private spot to ourselves. A good option, but not on this occasion.
3.  Our choice; anchor in Uvala Luka, adjacent to Korcula, and look over the bay to the Korcula castle. This time we set the boat close to the rocky southern shore and ran a stern line. Here we were secure and safe, nobody was going to run into us in the night and we had an easy dinghy trip to town.his was the only time we used the outboard, but to be honest it would have been easier to catch the water taxi. They even have Uber water taxis in busy parts of Croatia such as Korcula is. We swam from the boat and had privacy, so much nicer (and cheaper) than being in the marina. We were visited at our anchorage by marina staff and asked to pay a small fee.
Korcula is a wonderful place, so beautiful and steeped in history. Any sailing trip should comprise a mix of experiences, and here was the tourist mecca we had to tick off our list. We thoroughly enjoyed our stay there; especially our private rocky swimming pool with its wooded backdrop, while off our bows was the din of the party crowd too distant to disturb us. 
Laviste
Five miles to the north of Korcula on the tip of the Peljesac peninsula, the town of Laviste is set in a large bay. Out from the town centre are moorings available in exchange for patronage of the local economy. There is more anchoring space room further out, and numerous other anchorages in the vicinity if seeking solitude.
The food ashore was excellent, the downside being our education on how expensive fish can be in these parts. The common species are farmed sea bass, and snapper that I suspected may have originated in New Zealand waters. The wine had similarities to my homeland as well. We asked the waiter (who was too young to know) what the best local wine was, and were directed to a red that turned out to be a fortified wine, high in concentrated flavours and alcohol. Growing up in West Auckland, I recall a local tipple referred to generically as "Dali Plonk", with labels such as 'Purple Death'. This is what we were now drinking. One glass is nice but a bottle between two is a challenge. Even the names on the wine were familiar, the local Borich wine most likely made by a branch of the same West Auckland winemaking family, the fish shipped here from NZ most likely caught from a Simunovich boat, a family with origins in Brac. 
A turtle swam by the quay, a huge and very pleasant surprise as we had no idea such wildlife could live here Later on in the charter we also saw dolphins, but unlike where I come from they were wary of humans and not interested in playing with us. It is good to know you can spot marine life here. But generally the Mediterranean has been hammered by humans and observing wildlife is not why you go to Croatia.
That night a fierce lightning storm passed over with quite strong winds, a reminder that you still need to be vigilant and keep an eye on the weather forecast. Especially hazardous is the Bora, a katabatic wind that can hit during the night and morning as the air above the land cools at altitude and falls in fierce gusts.
Next morning the skies were cloudy but the wind had reduced enough to set sail on the wind towards Havr. As we cleared the Peljesac peninsula, we had to make a decision on sailing a straight-line course for the town of Hvar at the north western end of the island of the same name, or tacking to port to head south of the island and over to the coast. There was a lot we wanted to see around Split and the northern Dalmatian islands, before returning via the outer islands and Mljet. By this stage we had given up on Montenegro and were starting to realise that two weeks were not enough to enjoy all the Dalmatian islands and adjacent coast. So we made the call to miss this section of the coast. Disappointing but a case of prioritising our itinerary.
Hvar
A light north easterly breeze settled in for the day as we sailed the outside of Hvar Island, making the occasional short tack away from land. In these conditions I choose to leave the motor ticking at just over idle. At low revs you hardly know it's on as it keeps the batteries charged and water hot. Most of all for me, it avoids the annoyance of towing a fixed propeller through the water in a light breeze. The steep landscape of Hvar island is home of some of Croatia's best vineyards, and there's plenty of local produce available at good prices along the way.  We called in to Sveta Nedilja for lunch and a glass of wine that lived up to its reputation.
We had a leisurely sail of five hours in a picturesque setting to arrive at the town of Hvar. There is some space on the main quay and a few moorings at the entrance, but as a general rule it is not advised to moor up in Hvar town. Even if cheeky enough to secure a spot, the comings and goings of other craft make for a bad anchorage.
Just half a mile out from Hvar is the small Platinski island group, from which a water taxi service runs constantly to and from the town. There, the most natural marina I have ever seen is nestled into the trees. It was the most expensive of our trip (60 Euro), but a nice place to be. We walked ashore and onto a series of gravel paths meandering through the bush, following one to a bay on the southern side that was well serviced with bars and cafes, and which has a significant number of moorings available for patrons. 
The Platinski islands have many more quiet bays in which to anchor and water taxi to Hvar. This is the sort of area one could lose a week in, just relaxing and enjoying the culture and local services. But we had to keen moving. I wanted to catch up with some of the local charter operators. I had scheduled a day in Trogir and another in Split to meet colleagues who we talk to on a weekly basis, but rarely get to meet.
Stari Grad & Vriboska
The north eastern side of Hvar Island has many places to enjoy and it is very hard to pick favourites. At the northern end of the island, one small inlet after another invites you in. sailing from Hvar town, the first place of significance is Stari Grad at the head of a large bay. The town is four miles from the bay's entrance, a deep port encircled by a quay with ample room to secure a berth for the night. 
Stari Grad is said to be the oldest town in Croatia. Its 1000 years of history has left many monuments and structures among wooded hills interspersed with tidy olive plantations in a truly picturesque setting.
From Stari Grad it is about 15 miles around the corner to Vriboska, which is not unlike Stari Grad. The surrounding region offers some nice anchorages that are not too deep, a good choice for spending the night in the area.  Alternately after leaving Stari Grad you may prefer to make you way over to the town of Bol on the island of Brac, stopping along the way at the Zlatni Rhat sandspit for a swim. There are lots of options between Hvar and Brac, it just depends on time.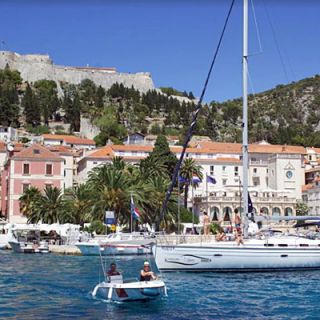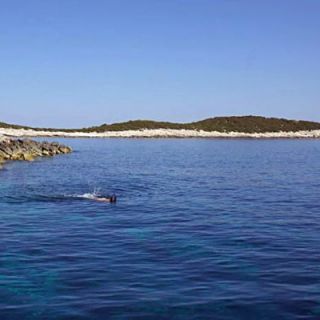 Enjoying calm, clear, azure Adriatic waters
Eastern/Northern Brac
Because our course was taking us south eastwards, we made the call to head for Split via the inside of Brac. As with the eastern end of Hvar this region is often missed on charter, but we were determined to gain some first-hand knowledge of the area.  As we passed the eastern end of Brac late afternoon with no fixed plan, it was tempting to stop but the inevitable '"let's just see what is around the next point" determined our course. We passed several perfectly eligible towns and then right on dusk came to the inlet of Pucisca.
Initially looking less inviting than some places we had passed already, with its headland an active marble quarry well scared with rusting bits of equipment on display, once inside we found the town quite fascinating - a picture of marble craftsmanship. Even the quay wall is made of marble. Pucisca is the source of all those lovely marble products available in market stalls across Croatia. It is an old and proud town, but it's the modern structures that are most impressive. We saw plenty of development underway, so expect even more marble structures in future. Unfortunately, arriving late meant there was no room on the quay. But it was no trouble to anchor in another arm on the harbour and make our way to town on foot.
Next day on our way to Seget Donji, we sailed past several places that looked inviting, some no doubt treasures equal to Pucisca. But that town alone made it worth the extra distance we sailed. 
Seget Donji and Trogir
For all intents and purpose these towns are the one destination, a main port for sailing holidays to begin and end. Trogir has Unesco World Heritage listing and is a must-see on any itinerary. The marina here comprises a series of piers on either side of the canal formed by the Island off Trogir. Somewhat ad hoc but the area has great energy at night with the lights of the town and buzz of tourist-focussed activities. Seget on the other hand is a quiet village up the road a bit, where a full-service world class marina has been constructed. A water taxi operates back and forth to Trogir. Seget is a relatively peaceful place to stay that's still within easy reach of the event that is Trogir.
Split
The base manager offered to take us into Split, about 40 minutes away by road, so we could spend the day there without moving the boat. If taking a boat into Split, the city's old marina is within walking distance of the town centre, while the modern Kastel marina is a little further out. Split is a lovely town and we enjoyed our day there.
We were keen to visit the ports of call one would expect week-long charters in this area to be on their first Saturday night. When getting away on day one, expect to converge with the rest of the fleet somewhere nearby, most likely at Bobovisca or Milna on Brac. While we found these to be quaint Croatian villages with good marinas, there may be a better course to take. One option is to pay for an early start and sail the 20 miles to Hvar on the Saturday, enabling you to shake off the main fleet. Alternatively, relax in Seget marina then next morning head down the southern side of Brac, get to Hvar on about the Wednesday, then Vis then home. It is good to get out of phase with the routine itinerary that has large numbers of boats following in each other's tracks.
For a short sail to/from base, an appealing option for your first (or last) night of charter is the northern end of Solta Island, and the attractive town of Maslinica.
Primosten and Vis
To familiarise with some of the bases north of Split, we motored up the coast as far as Primosten. This excursion gave me a better understanding of the Sibenik area, from where you can charter as an alternative to Split. I don't see this region as a highlight in itself, more a location for boats in charter further northward to the Kornatis. It isn't far however. Our trip Seget - Primostein - Solta and Vis was easily achieved in one day included ventures in and out of bays and marinas.
Vis
The outermost island from the Croatian mainland served as a military base until 1989, during which time it was largely off limits and undeveloped. Improvements are limited to only what's necessary, and there is a wild side to this Island you will not find elsewhere. I have to admit it was a bit lost on me as I hankered for the civilisation I had become used to. Sharon on the other hand considered it the highlight of her trip. Such is the subjective nature of travel.
We only had time for the town of Vis but I was told Rukovac is well worth the visit. In Vis town you will find stores and a lovely clean harbour with top class restaurants. The local civilian population was maintained during the military era, nothing of its past was lost and it is somewhat unique among Croatian islands.
Northern end Korcula Island
From Vis we motor-sailed at 5.5 knots against the south-east Sirocco wind that was starting to set in. The Sirocco is a warm, low-pressure wind that can last for two weeks and blamed by the locals for any hot tempers and bad behaviour. But we didn't find it noticeably hot. In fact during the entire trip the temperature was ideal, day and night. And the water was good too, always that perfect degree that is both cooling but not too bracing when first taking the plunge.
We anchored for lunch and a swim in the bay of Proizd, a small island off the northern tip of Korcula, surrounded by beautiful blue that's see-through even at 20 meters. Ashore the locals were enjoying a picnic on their rocky beach. Moving on we poked our nose into Vela Luka, the main town and port of northern Korcula, famous for its olive oil and mud treatment spa.
Our highlight this day was anchoring for the evening with a stern line off an island slightly south of Tri Luke inlet. This place was exquisite, the water clear and deep, the land wooded with cypress, and loud cicada the only company.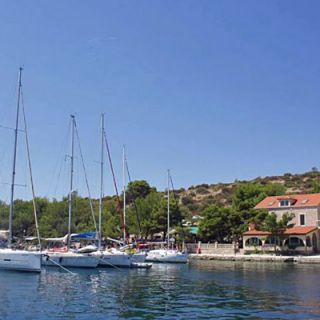 Skrivena Harbour, Lastovo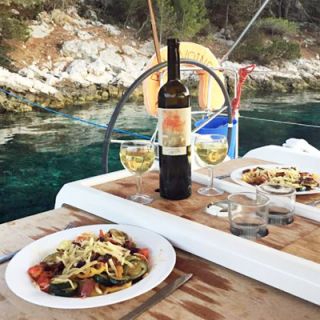 Just tie up to shore and enjoy
Lastovo
Lastovo also has remnants of a military presence, like a really cool tunnel at its northern end for submarines to hide. The island is part of a fragmented group of wooded Islands with small towns and plenty of places to anchor for the night. In hindsight we may have been better off staying one of these secluded spots, but we kept going on the main town of Lastovo, on the northern side. The closest port is Zaklopatica, a bay with mixture of moorings, quay and anchor space.  There are many restaurants of good quality and reasonable price, a short taxi ride to the ancient town of Lastovo at the top of the hill, famous for its most unique style of chimney pot.
The Sirocco wind didn't come to much, and was replaced by a stiff north westerly blowing in. While the map indicated a sheltered land-locked bay, it was not ideal in those conditions. A more sheltered harbour port is Oroz on the outside of the island, which for some reason is more arid. Oroz proved a sleepy little community with a store and a couple of restaurants overlooking a big harbour sheltered in all conditions. As we had always planned to catch a taxi to Lastovo, we could have done it as easy from here and had a better night's sleep. 
Mljet
Returning to Korcula, we then sailed down the inside of Mljet. The island's northern end is a national park with bush and an indented coastline that one could fossick around in for days. The main towns are Polace and Pomena. Polace is set at the head of a large sheltered harbour with wooded hills and islands at its entrance not unlike Fitzroy Harbour back in NZ. The difference of course, this bay has an ancient European town at its headwaters. Polace and Pomena both appeared good places to stop for the night, but rather we spent a relaxing time in the national park.
This end of Mljet's most noticeable feature is what is referred to as the Lakes, bodies of water that in fact connect to the sea. To explore the lakes, anchor in a designated part of Gonoturska Bay and proceed by water taxi. We decided to pass on that, instead motoring around the northern point and down the western side at a very leisurely pace, enjoying the natural, unspoilt scenery of rocky shoreline and dense cypress.
Croatia has a booming tourism sector and we were prepared for it to be busy. But here we were in high season and these towns and harbours we were passing could have taken five-fold the number of boats there would have still been plenty of room for privacy. The southern Dalmatia Islands have plenty of capacity yet, with a lot less boats in total than other parts of the Mediterranean.  
We made it to the lovely sheltered harbour of Prozura around 5pm and had a swim around the small island that shelters the bay. Having eaten ashore so much during our voyage, our provisions needed attention so we cooked and ate aboard to reduce our stores.
We left early and motored around the southern end of Mljet to the island's Customs monitoring station. Continuing down to Montenegro waters, you are being watched, and if you do not clear customs a patrol boat will appear to issue a fine and turn you around. On our arrival we were immediately met and offered a mooring for the price of lunch ashore in Sapluara, a beautiful sandy beach covered in deck chairs. The sand is scorching hot, too hot to walk on. Sunbathing in Croatia is a clothing optional activity that involves finding an area of cool flat rock to lie on. The rock has formed in layers and the geology makes the beaches purpose-built for the job. That challenged my assumption that a beach must have sand. The western side of Mljet has some of the country's few sandy beaches, and they are certainly dispensable. We had got used to the rocky shoreline and it had become by now distinct preference. 
With lunch we sampled the local Grappa liquor which is strong and very much an acquired taste. The food was delicious, two starters to share, anchovies and shrimp and the fabulous Mljet salad, a mix of capsicum, tomatoes, red onion, cucumber and feta cheese dribbled with red wine vinegar and olive oil.
Journey's End
From Mljet we motored across to the mainland and along Stonski Kanal, back to Kobas where the restaurateur urged us onto his pier so we would be obliged to dine at his establishment. Luka's restaurant was a real treat, intimate with superb food and good wine yet inexpensive.
And so back to Dubrovnik, taking in the view from the sea of the spectacular walled city. Then back to base, a trouble-free processing and a taxi into town for an enjoyable last evening. En route to Greece, where we would deliver a boat from the Ionian Islands to Athens via the Corinth Canal.