Sailing in Croatia: The Kornati Islands
Moving south from the Istria Peninsular and Cres & Losinj Islands, we come to the group of long, narrow islands that guard the mid-Croatian coast. Centered on Kornati National Park, this is Croatia's most popular sailing region. There's a fabulous choice of places to go and charter boats to go there in.
Croatia is a yachtsman's paradise, with numerous islands and sheltered harbours located at convenient sailing intervals. This makes the Kornati Islands ideal for the bareboat charter. Cruising distances are short, and you can spend your holiday time at a leisurely pace. There are places to visit on the mainland too, where a safe haven and social diversion awaits each evening.
The Kornatis comprise around 150 islands in what is the densest archipelago in the Mediterranean. Some 89 of these islands are included in Kornati National Park, which has been submitted for World Natural Heritage listing. Getting there normally means picking up your charter yacht at Murter, an ancient town and now a major tourism center. From there it is an easy sail into the archipelago, where the choice of which direction to sail in presents your greatest challenge.
One option is to sail to the outer islands where the main national park sites are, making your way north then taking a circuitous course back to Murter via the inner islands and coastal mainland attractions.
The outer Kornati Islands are relatively dry places, their limestone terrain producing some amazing caves, cliffs and land forms with intense colours and contrasts. The starkness of the landscape is a big part of its appeal. Just offshore is some of the best diving in the Mediterranean.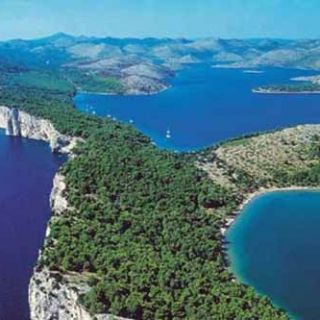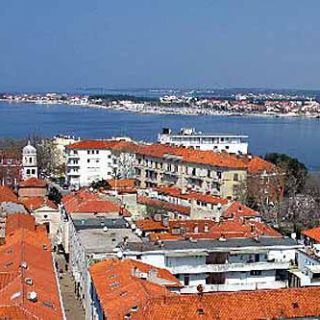 In contrast to the arid lansdscape of the outer Kornati Islands, those nearer the coast are wooded and picturesque in the classical Mediterranean sense. Settlements exist to service the agricultural work that goes on there as it has for centuries, and to support a growing tourism industry. The largest town in the region is Zadar, on the mainland north of Murter, while for the most part the islands are sparsely populated with only a few small settlements. They are however without fail well populated with the cafes, markets and restaurants that are an essential part of any sailing trip in Croatia.
To skipper a bareboat yacht charter in Croatia, a sailing license is needed (usually a formal certificate at any level will do), and a VHF operator's license is also compulsory.We at Sail Connections will help you with the details of that, seeking prior approval of your documentation on your behalf before you travel, to avoid any last minute headaches. You must carry the original documents with you on board, in case of inspection by port authorities.
As an experienced sailor you may be set on a bareboat yacht charter in Croatian waters. But if you want to totally relax on your sailboat vacation, Sail Connections can arrange a skipper who will take responsibility for the charter yacht. We can also provide a cook to prepare all your meals if you wish. One advantaged of chartering a crewed yacht is that the locals know their home patch best, and are always willing to share their knowledge with national pride! It adds that extra level of fun and value when you find yourself in an authentic restaurant just off the beaten tourist path, or experiencing some special local entertainment that it seems is happening just for you.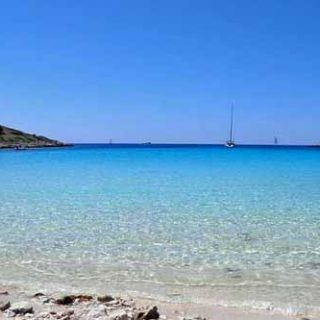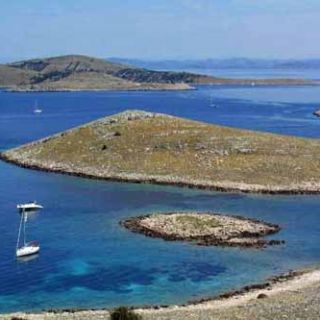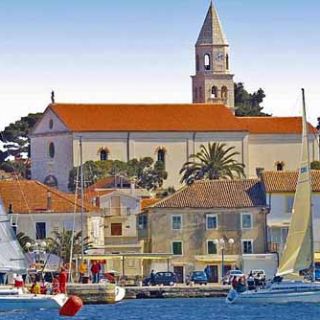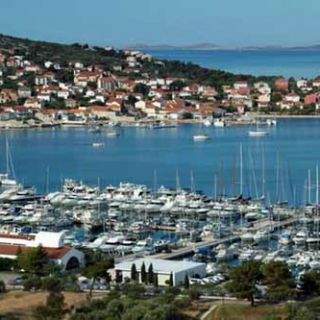 Croatia is a popular charter destination, with countless operators and new boats coming into the market all the time. It is a well-organised place to sail, with considerable recent investment in marinas. You can use these facilities just about everywhere along your route if you are willing to pay the fees and forgo some delightfully remote and natural anchorages.
The three regions of Croatia are quite distinct, and it's worth doing some careful research to ensure you get a package that fits your needs.The geography is such that it's easy to undertake longer itineraries than those mentioned here. For instance your one-way southward voyage may start at Murter, in which case you will also cover Sibenik and its own small group of offshore islands. The point is, the choices are just about endless, so take advantage of our contacts, knowledge and experience, and enjoy a sailing holiday to remember for a lifetime.
The mid-coast of Croatia including the Kornati islands offers a great place to take a bareboat sailing charter and experience the unique natural splendour of these lands. It also provides excellent opportunities to appreciate Croatian culture and history in the nicest of settings. 
There are many charter boat operators in this part of Croatia, and plenty of good boats to select from. Let us work through the options with you, making sure everything is in place for a most enjoyable sailing holiday in this fascinating and diverse region of the Mediterranean.
Now let's venture south, to the famous Dalmatian Coast.